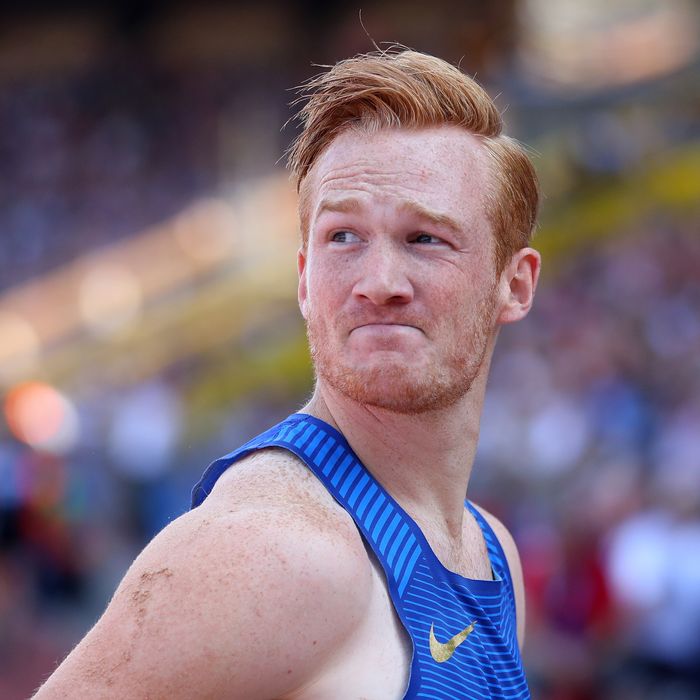 Greg Rutherford.
Photo: Richard Heathcote/2016 Getty Images
British long-jumper Greg Rutherford won a gold medal in London four years ago, a feat he's hoping to re-create at the Rio Olympics. But because of the threat of the Zika virus, not only will his partner and son stay home and cheer him on virtually, but Rutherford has another item on his pre-Olympics checklist: freeze his sperm.
The Zika virus is a cause of birth defects like microcephaly and though it's most often spread by mosquitos, it can also be sexually transmitted. This is why health organizations have recommended that couples that want to have children wait eight weeks after exposure before trying to get pregnant, and six months if the man develops symptoms. And oral sex may not be safe either.
As Rutherford's girlfriend, Susie Verrill, wrote in a post for Standard Issue magazine:
We'd love to have more children and with research in its infancy, I wouldn't want to put myself in a situation which could have been prevented. Specialists still also don't know the ins and outs of Zika, so even though it looks as though there's no real issues should Milo get bitten, it's just another thing we don't want to chance.
Health officials have also advised that pregnant women not travel to areas where the virus is spreading and couples where the woman is pregnant should use condoms or abstain from sex until the baby is born. Some South American countries have even helpfully suggested that women "take steps to plan their pregnancies" without addressing the men in the equation.
While Rutherford and Verrill's worries could certainly be construed as fearmongering (and expensive fearmongering at that), the couple is sharing responsibility for preventing Zika transmission. The onus is not just on the woman.