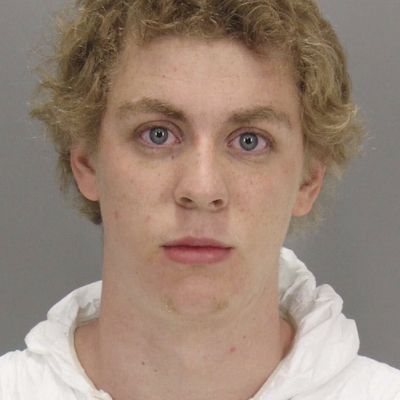 Brock Turner.
Photo: Santa Clara County Sheriff's Office
After Judge Aaron Persky sentenced Stanford swimmer Brock Taylor to just six months in jail for rape, many people had reason to be enraged, so they decided to do something about it. As more details of the case surface, so do the efforts of those taking action. Here are a couple happening now.
Grlcvlt's F*ck Rape Culture Event
The secret online feminist group Grlcvlt is planning to take action against Persky, in a letter-writing event to unseat him, reports Brokelyn. The group, based in New York, has banned together its 3,000-plus members to provide stamps and addressed envelopes at the Holyrad Studio party Wednesday, June 15. They're mixing drinks and music with some good old-fashioned activism. The event's host, Remy Holwick, told Brokelyn that once people knew of the small gathering, it became a movement:
"First I invited 10 people to my living room, I saw us all signing forms [to unseat Judge Aaron Persky] and putting them in the mail. One of those 10 girls was a PR agent. Within an hour, we had the venue. Within a day, liquor sponsors."
The Facebook event already has more than 900 attendees, with more than 1,000 interested. When people are pissed, a small organized event sure grows fast.
A Hex Party
The pagan community of Palo Alto took another tactic entirely, with a hex party on Tuesday, according to pagan news source, The Wild Hunt. A woman the publication names as Melanie Hexen invited others to join her Tuesday evening to place a hex on Brock Turner; his father, Dan Turner; and Judge Persky. The event noted that participants could perform the hex in their own homes with a black candle, a black string, and photos of those to be hexed.
"I think it will raise awareness of not only this particular case but of this rape culture we live in. And witches will stand together against injustice," Hexen says in the article.
Make that witches and just about anyone who is done with rape culture. Watch as the crowds gather.
This post will be continuously updated.