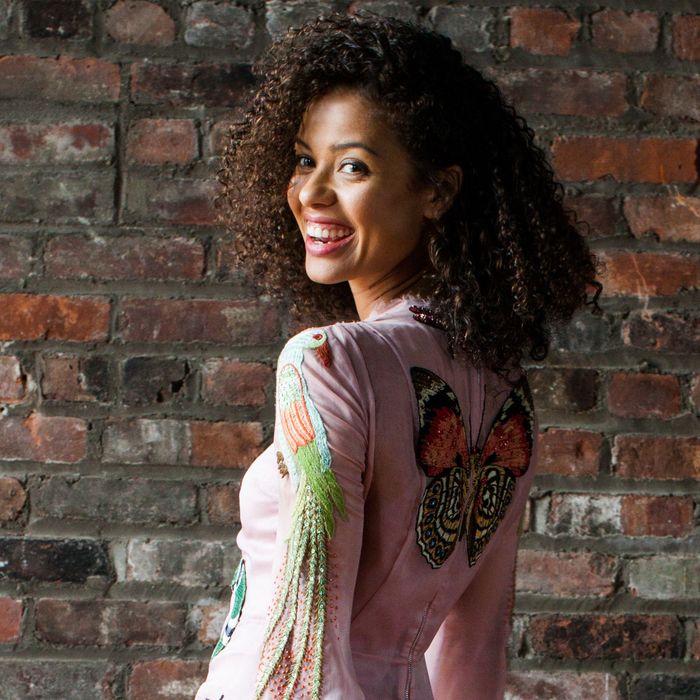 If you look at Gugu Mbatha-Raw's acting career, it takes a while for a pattern to emerge. She first gained attention at 22 as Juliet opposite Andrew Garfield's Romeo at the renowned Royal Exchange Theatre in Manchester. In the criminally overlooked romantic drama Beyond the Lights, by Gina Prince-Bythewood (who made the infamous Love & Basketball over a decade ago), Mbatha-Raw played a struggling pop star. Her "sleeper hit" Belle tells the true story of Dido Elizabeth Belle, an illegitimate biracial woman brought up as an orphaned member of her father's aristocratic family. And in her upcoming Oscar bid, Free State of Jones, she stars alongside Matthew McConaughey as a slave fighting for her freedom.

What all these parts have in common: They're nuanced and ambitious, roles for someone who's not content to just be the girlfriend or the wife. She talked with the Cut about forging her own path, making it in Hollywood, and what she's most grateful for.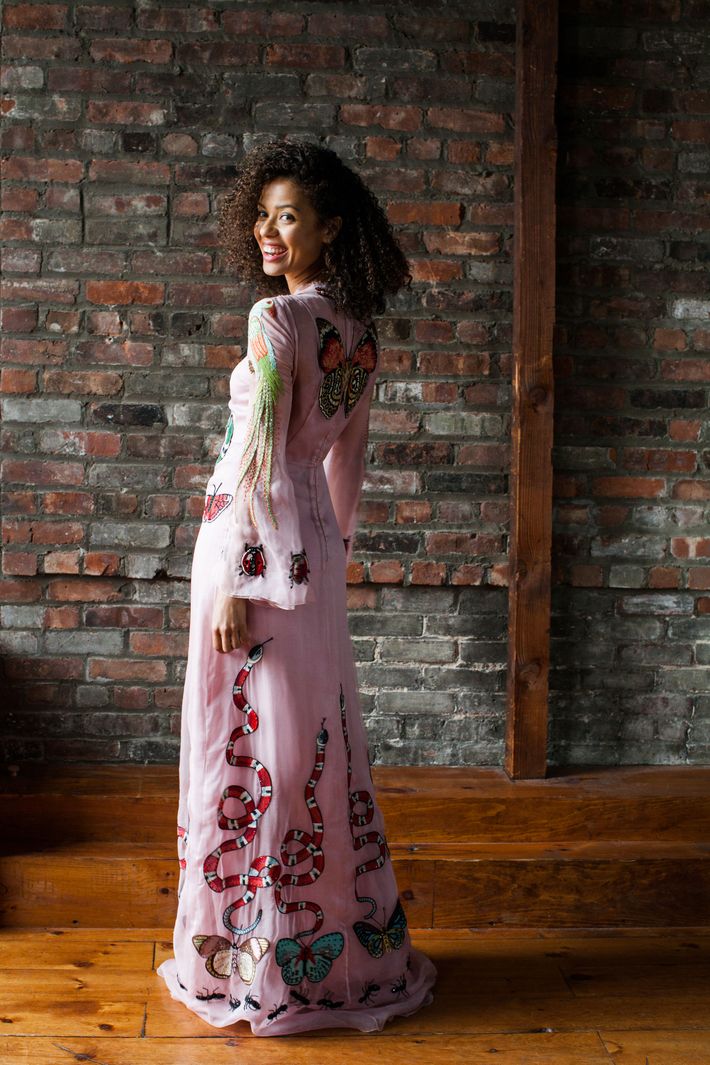 Gucci Rose Bloom dress, $19,000 and Gucci platforms, $990 available at Gucci.com
Gugu Mbatha-Raw's love for the craft of acting comes across immediately in conversation. "This is what I've always wanted to do ever since I was a little girl," she says. "Coming from dance and theater and what was accessible to me in my hometown, it was all I did after school and on the weekends. The idea of making my hobby into my job was the ultimate quest." She tells me that, growing up as an only child, her drama buddies were her best friends, adding, "I never wanted to be like anyone growing up. It's always been about the enjoyment and I've just never wanted to imitate anyone."
But that doesn't mean she hasn't had her mentors: "Watching and learning from the great Josette Bushell-Mingo, who was playing Cleopatra in Antony and Cleopatra at the time, and then to return to the same stage six months later playing a lead role, was incredible — I fell in love with the poetry and the breadth of the language so much that I didn't want it to end." To date, Gugu has done four Shakespeare plays, two of which have led her to Best Actress nominations in the Manchester Evening News Theatre Awards.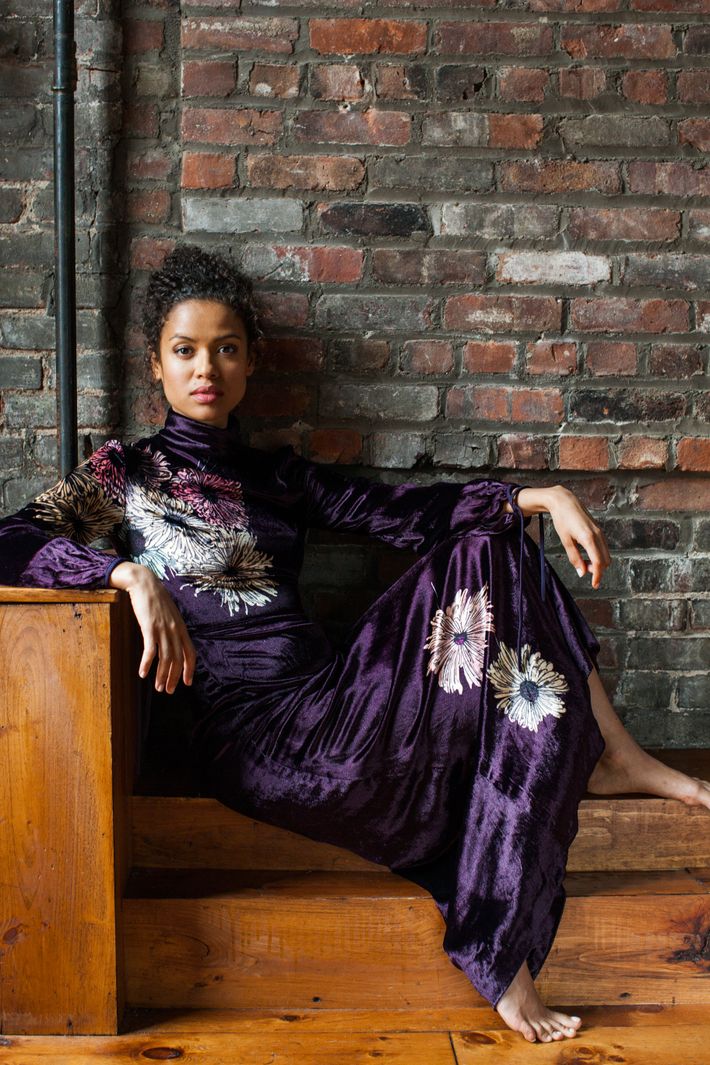 Miu Miu dress, $3,805 at MiuMiu.com
Whether she's doing Shakespeare or Hollywood, Gugu has always held out for compelling parts regardless of the press or budget — or lack thereof. She knew about Belle's development for eight years and, although she still was acting in other things, held onto her closeness with the character in the faith that she would one day play her.
"I would walk on the weekends to Kenwood House and I had no idea that this biracial aristocrat lived there, so I started to spend a lot of time here. I got the postcard of her portrait and held onto the idea of it becoming a film one day."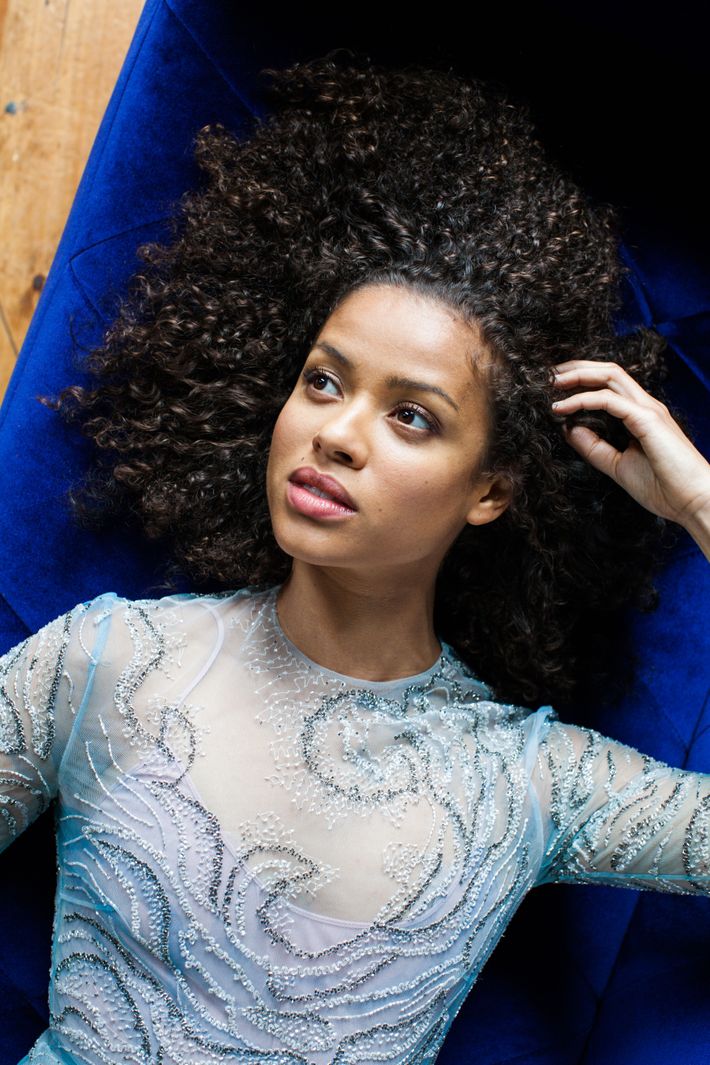 Valentino dress, price upon request at Valentino.com
Gugu says she's learned surprising practical things from each role — like dancing and choreography for Beyond the Lights, or learning to ride a scooter in Tom Hanks's Larry Crowne — but she's also taken emotional life lessons from each experience. "You've got to find a way to relate to people. I just did an improvised episode for Joe Swanberg's new Netflix show, Easy, and it was a huge learning curve for me, and taught me so much about fear and courage. But when you're present in the moment, the audience, it's incomparable."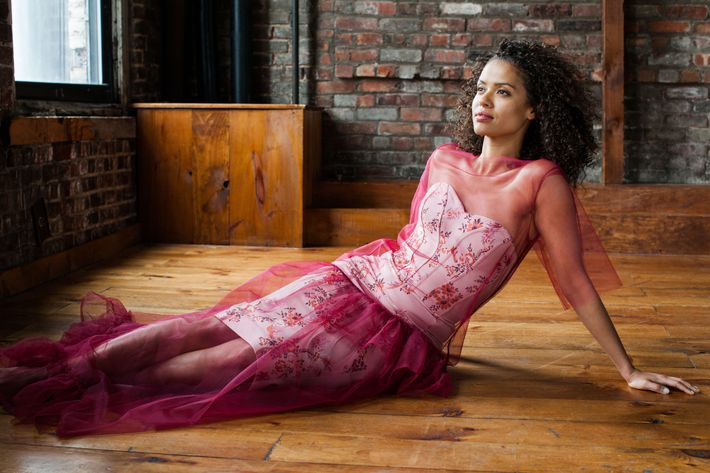 Stella McCartney dress and bustier, price upon request at StellaMcCartney.com
And how much does race play into the stories she chooses to tell? Gugu answers unequivocally: "In being a biracial woman, I think that some roles like Belle were written for that, but there's so many levels of humanity that I can explore. I will always be a biracial woman every day that I get up in the morning, that's who I am — but that won't ever prevent me from exploring other people and cultures in my work."
Her next projects — a space thriller titled God Particle by Star Wars director J.J. Abrams, and Gina Prince-Bythewood's adaptation of Roxane Gay's psychologically striking novel, An Untamed State — offer more unlikely ways for Gugu to showcase her range and talent. But before then, there's her new film, Free State of Jones, which hits theaters June 24.
Free State of Jones, which also stars Matthew McConaughey, tells the story of an armed rebellion against the Confederacy in Mississippi during the Civil War. Gugu's character, Rachel Knight, leads a double life — working as a house slave on the plantation by day and traveling by night to the rebel camps in the swamps to bring them information and supplies. It's incredibly refreshing to see her actively participate in the rebellion instead of waiting on the sidelines.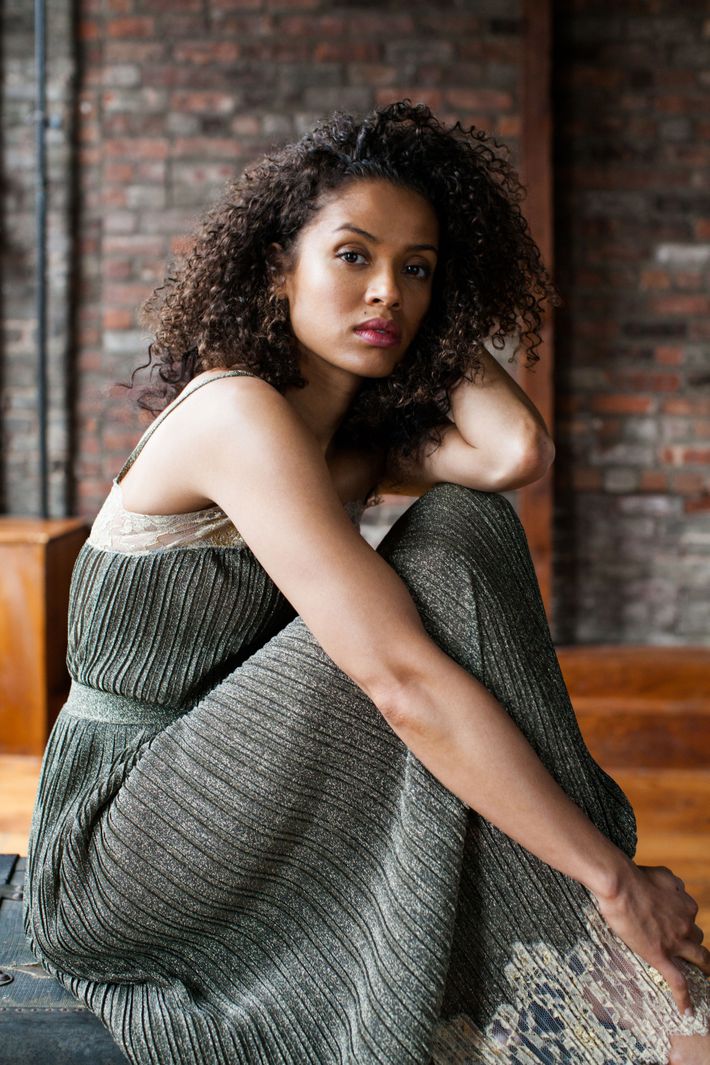 Chanel dress, $5,300 at local CHANEL boutiques or (800) 550 0005
Mbatha-Raw says that growing up in the U.K., she had never heard the story of Rachel Knight, and it inspired her to read more about how these poor white farmers and escaped slaves created their own mixed-race community in the South in the 1860s. "It was fascinating for me to discover the agency that these slaves had at the time. Too often are we more familiar with seeing how downtrodden slaves were because of the horrible regime, and instead I saw this woman that was trying to better herself by learning to read, despite it being illegal, and arming herself physically to be part of the rebellion. Just imagining the bravery and their struggle made me feel an overwhelming sense of gratitude."
Photos by Andre Wagner, makeup by Nick Barose, hair by Lacy Redway, styling by Lindsay Peoples.