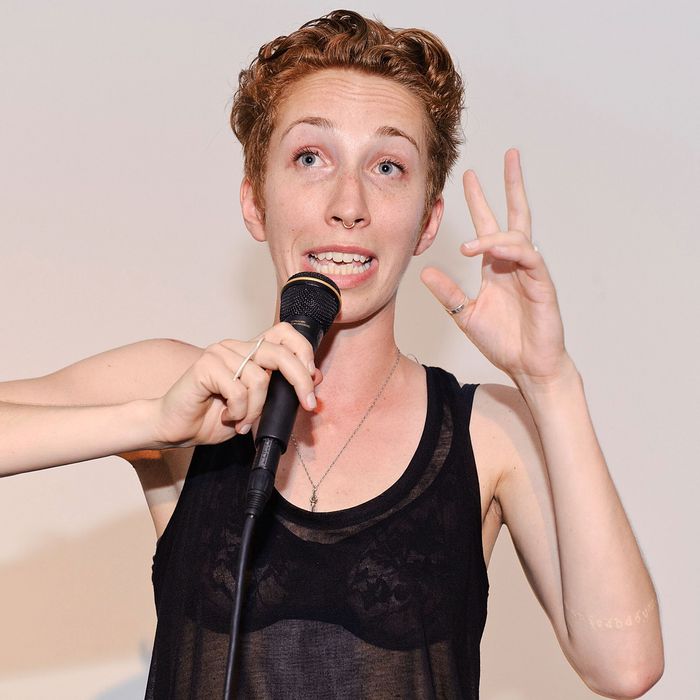 iO Tillett Wright.
Photo: Matthew Eisman/Getty Images
A day after tweeting support for Amber Heard's claims that ex-husband Johnny Depp abused her, the couple's friend iO Tillett Wright has penned a moving essay about domestic violence entitled "Why I Called 911" for Refinery 29.
While Wright does not reference the couple specifically, many identifying details within the piece correspond with Heard's allegations against Depp.
In Heard's divorce filing and request for a restraining order, she writes that Wright was on the phone with her on May 21 when Depp allegedly threw his phone at her face, and that Heard yelled for Wright to call the police. Wright appears to reference this incident, writing: "I was on the phone with both of them and heard it drop, heard him say, 'What if I pulled your hair back?' and her scream for my help, I wondered like so many times before if I should break the code of silence that surrounds celebrities and invite the police into the situation." Wright decided to call 911, "because I realized that as long as I was protecting the abuser from consequences, I was enabling the abuse and I could no longer partake."
Wright's piece comes shortly after two concierges told TMZ that they witnessed no bruising on Heard's face days after the alleged attack.
"We say domestic violence is bad, we condemn it," Wright writes. "But as a culture, we create the most fertile breeding ground for it to thrive. The cycle of abuse is perpetuated by every person who asserts that the victim more likely punched themselves rather than addressing the very real evidence of violence in front of them. The culture of victim-blaming is the very thing that protects abusers' ability to get away with this kind of behavior."
Wright acknowledges a hesitance to believe that a close friend could commit such abuses, "until I saw the wreckage."
"The reports of violence started with a kick on a private plane, then it was shoves and the occasional punch, until finally, in December, she described an all-out assault and she woke up with her pillow covered in blood," Wright says. "I know this because I went to their house. I saw the pillow with my own eyes. I saw the busted lip and the clumps of hair on the floor. I got the phone call immediately after it happened, her screaming and crying, a stoic woman reduced to sobs."
A number of Depp's friends and family members have come out in support of the actor, with his attorney Laura Wasser claiming that Heard is exploiting Depp for financial gain.