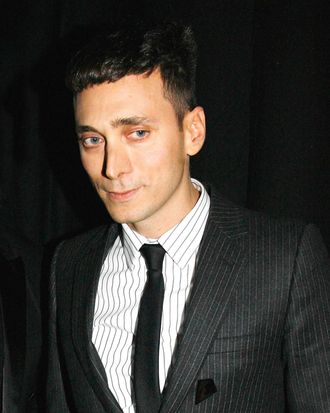 Hedi Slimane
Photo: Eric Ryan/Getty Images
While Anthony Vaccarello is already unveiling his new, nearly nude vision for Saint Laurent, Hedi Slimane isn't quite done with the brand yet, it seems. Slimane is taking Kering, Saint Laurent's parent company, to court. Reuters is reporting that the issue seems to be the non-compete clause in his contract. But rather than what you might expect — Slimane asking to be released from a non-compete so he can go to another house as creative director — he's actually asking Kering to reinstate it.
According to a company statement provided to Reuters, Kering lifted the restriction upon Slimane's departure, apparently at his request, and now he is asking for it back along with the attendant compensation. While it doesn't sound like the most fraught situation — there have certainly been messier designer-brand breakups — it seems Slimane isn't letting go just yet. So much for those rumors that he'd be joining pretty much every luxury house under the sun as creative director.
We've reached out to reps for Kering and Slimane for comment, and will update this when we hear back.