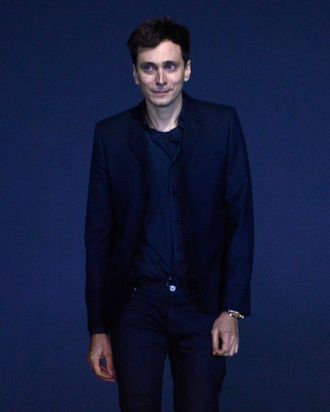 Hedi Slimane is $13 million richer.
Photo: Martin Bureau/AFP/Getty Images
Hedi Slimane's prolonged exit from Saint Laurent has reached something resembling closure. Last week, the designer's lawsuit against Kering, which owns the brand, came to light. Here's a quick refresher: Slimane wanted Kering to retroactively apply the non-compete clause in his contract after he left the house in April. Slimane's reasons for doing this are surely linked to the compensatory income the non-compete brings him. Today in a Paris court, Slimane won his suit and Kering was ordered to pay him $13 million, per a Reuters report.

Slimane's attorney, Herve Temime, told the news service, "We won. I'm happy because this is a natural outcome. The contract terms were absolutely clear." That victory leaves Slimane with plenty of time and money to figure out his next move, which — given the much-contested non-compete — probably won't be happening anytime soon.
And as far as Kering is concerned, this outcome at least keeps Slimane out of the news. After all, Slimane's been out of the building for three months, but he's the one in the headlines — meaning successor Anthony Vaccarello will really have to deliver if he wants to keep up.