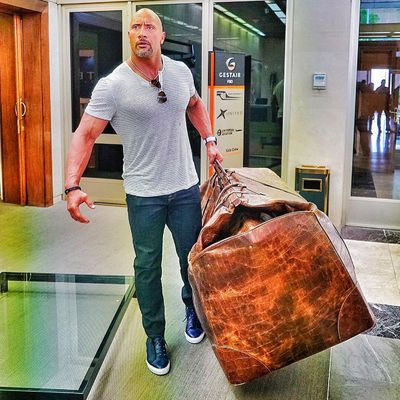 Man, bag
Photo: therock/Instagram
America's motivational coach, Dwayne "The Rock" Johnson, posted a photo of himself on Instagram Wednesday morning carrying a truly enormous leather bag — a Rock-size weekender, if you will. "Travel light my friends. One bag is all you need," he wrote. (The Rock is nothing if not practical.)
Once you get over the initial shock of seeing a beefy man carrying a Smart-car-size purse, it's only natural to wonder what he could possibly have in there. Here are a few ideas, sure to go down in the annals of history like Joan Didion's packing list. 
Seven bespoke T-shirts specifically created to highlight every single muscle on his upper body
His French bulldog, Hobbs
Fifteen pounds of cod
A printed schedule reminding him when to Instagram promotional images for every upcoming movie he's starring in
An hourglass filled with protein powder
Every unsold San Andreas Blu-ray disc
Baywatch co-star Zac Efron
Have a good trip, Dwayne!