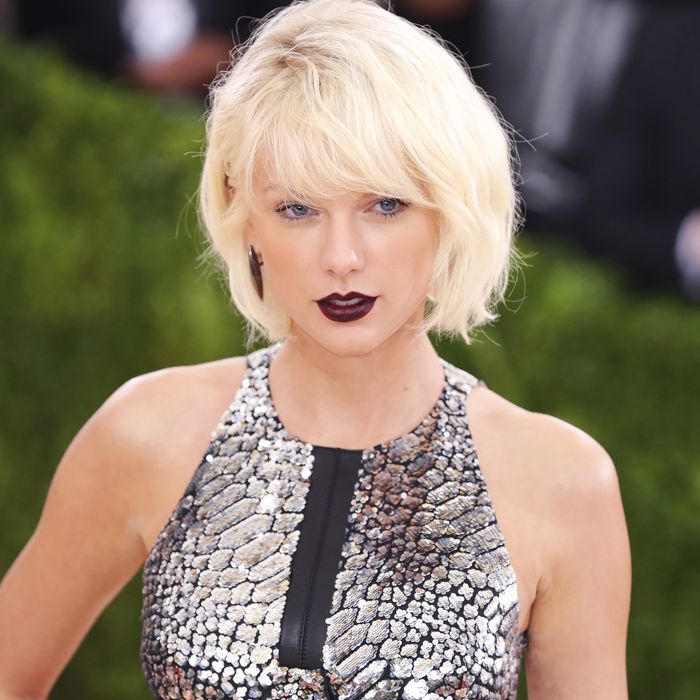 Taylor Swift.
Photo: Neilson Barnard/Getty Images
Late yesterday afternoon, a British tabloid published several photos of Taylor Swift kissing the actor Tom Hiddleston on a rock near her home in Rhode Island. Two weeks before that, Taylor Swift broke up with her previous white male companion, Calvin Harris (a DJ). And roughly 4.6 billion years before that, collisions in a solar nebula caused the formation of the sun and eventually, Earth. Why did these events happen in this particular order?
Because Taylor Swift wanted them to.
Taylor Swift has been strategically employing famous boyfriends to shape her music and public image since it was legal for her to do so. She started dating Joe Jonas a few months after she turned 18 and later told Ellen Degeneres that he broke up with her in a "27-second phone call," inspiring the song "Forever & Always." Then it was Taylor Lautner ("Back to December"), John Mayer ("Dear John"), Jake Gyllenhaal ("We Are Never Getting Back Together"), Conor Kennedy ("Begin Again"), and Harry Styles ("Style"). She has it all down to a science. First comes the adorable paparazzi photo shoot (remember those maple latte pics with Gyllenhaal at Thanksgiving?), then a coy interview or two, then a breakup song.
Yesterday, Swift rushed her tried-and-true formula. Before processing the Calvin Harris breakup through song, she let paparazzi photograph her being all cute and goals with a new man. Why?
The answer is in Caity Weaver's excellent GQ profile of one Kim Kardashian.
In it, Kardashian discusses the drama surrounding the release of her husband Kanye West's recent album, which contains the following line about Swift: "I feel like me and Taylor might still have sex/ Why? I made that bitch famous." When he released the album in February, West claimed he called Swift to discuss the line with her, and she approved it. Swift's publicist then released a statement denying his claim: "Kanye did not call for approval, but to ask Taylor to release his single 'Famous' on her Twitter account. She declined and cautioned him about releasing a song with such a strong misogynistic message." The next day, in a Grammy acceptance speech, Swift made a dig at West, stating, "I want to say to all the young women out there, there are going to be people along the way who will try to undercut your success or take credit for your accomplishments, or your fame…"
Kardashian is calling bullshit on Swift's claims. From GQ:
Kim says Taylor's deep emotional wound is nonsense — okay, she says it's a lie — and that there's video proof, because a videographer was actually filming their phone call. Why? Because Kim's husband commissions videographers to film everything when he's recording an album, for posterity (and possibly, one day, a documentary). And this is where it gets sticky.

"She totally approved that," Kim says, shaking her head in annoyance. "She totally knew that that was coming out. She wanted to all of a sudden act like she didn't. I swear, my husband gets so much shit for things [when] he really was doing proper protocol and even called to get it approved."

… Swift, Kim insists, "totally gave the okay. Rick Rubin was there. So many respected people in the music business heard that [conversation] and knew. I mean, he's called me a bitch in his songs. That's just, like, what they say. I never once think,[gasping] 'What a derogatory word! How dare he?' Not in a million years. I don't know why she just, you know, flipped all of a sudden.… It was funny because [on the call with Kanye, Taylor] said, 'When I get on the Grammy red carpet, all the media is going to think that I'm so against this, and I'll just laugh and say, 'The joke's on you, guys. I was in on it the whole time.' And I'm like, wait, but [in] your Grammy speech, you completely dissed my husband just to play the victim again."
Damn! And Kardashian claims that when Swift found out she was being recorded on the call with West, Swift sent an attorney's letter to him that read something like, "Don't ever let that footage come out of me saying that. Destroy it."
Swift's publicist sent a lengthy statement to GQ in response to Kim's claims:
"Taylor does not hold anything against Kim Kardashian as she recognizes the pressure Kim must be under and that she is only repeating what she has been told by Kanye West. However, that does not change the fact that much of what Kim is saying is incorrect. Kanye West and Taylor only spoke once on the phone while she was on vacation with her family in January of 2016 and they have never spoken since. Taylor has never denied that conversation took place. It was on that phone call that Kanye West also asked her to release the song on her Twitter account, which she declined to do. Kanye West never told Taylor he was going to use the term 'that bitch' in referencing her. A song cannot be approved if it was never heard. Kanye West never played the song for Taylor Swift. Taylor heard it for the first time when everyone else did and was humiliated. Kim Kardashian's claim that Taylor and her team were aware of being recorded is not true, and Taylor cannot understand why Kanye West, and now Kim Kardashian, will not just leave her alone."
So here's a theory: Taylor Swift knew this story about her maybe lying was coming out this week. So she went to Rhode Island with her friend or boyfriend or actor she knows Tom Hiddleston. And then, the night before the story broke, roughly 4.6 billion photos of her kissing this person showed up on the internet. And now that's the story. Congrats to the new couple!