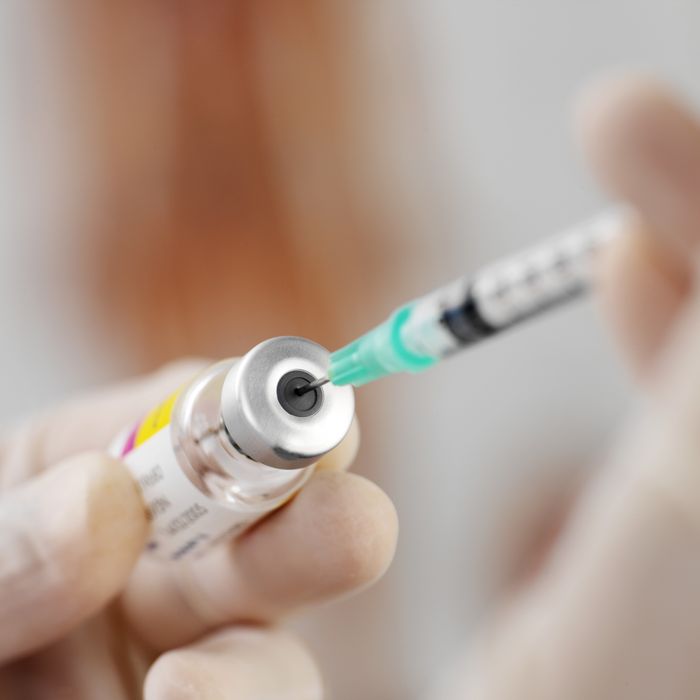 Photo: TEK IMAGE/Getty Images
About one in six Americans under 50 and more than half-a-billion people worldwide have genital herpes, an STD for which there is no vaccine or cure. Now, researchers at Indiana University say there's a vaccine that could reduce the activity of the virus and decrease the number of outbreaks, which could possibly lessen the risk of transmission.
Researchers completed a phase-II clinical trial where they gave 310 people with recurrent genital herpes varying doses of a vaccine for herpes simplex type 2 or a placebo injection. Over the course of a year, participants were tested for immune response to the virus, whether it was detectable on the skin around their genitals (a.k.a. viral shedding), and the number of days they had outbreaks.

People who received the highest dose of the vaccine — which is actually a series of three injections 21 days apart — saw about a 60 percent reduction in viral shedding compared to what was normal for them. Most people saw a "significant reduction" in lesions and between 16 and 32 percent had no recurrences a year after vaccination.
The study results were presented at a meeting of the American Society for Microbiology and have yet to be published in a peer-reviewed journal, but ASM president Lynn Enquist, Ph.D, a Princeton University molecular biologist who specializes in herpes viruses, told MedPage Today that the results looked promising.
Indiana University and manufacturer Genocea Biosciences now need to conduct a phase III trial with thousands of people and prove it's safe and effective before submitting the vaccine for FDA approval. Vocativ points out that other herpes vaccines have not gotten past this next step.