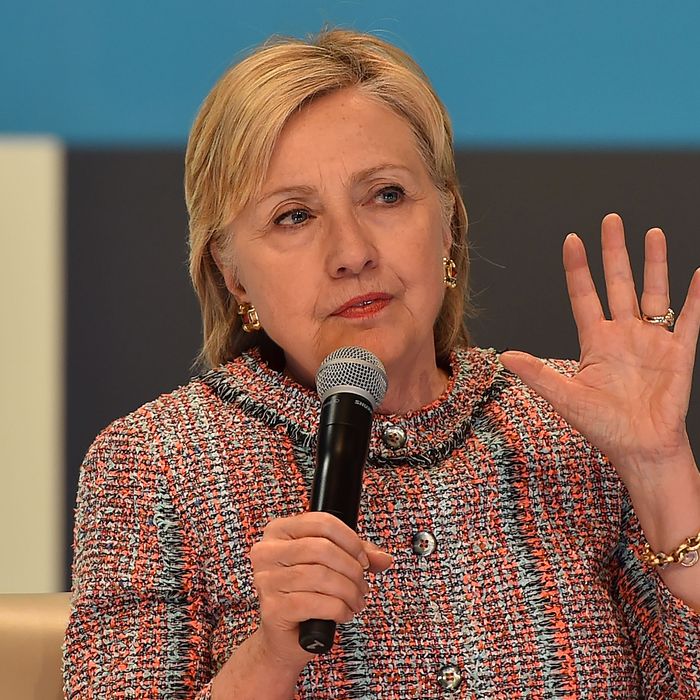 Photo: ROBYN BECK/Getty Images
At a livestreamed town-hall event on Tuesday, presumptive Democratic nominee Hillary Clinton took questions from online content creators, many of them YouTube stars who've made careers out of sharing beauty tutorials and product reviews. But Chrissy Chambers, one half of the YouTube channel BriaAndChrissy, raised a far more serious topic.
"In 2015 I came out as one of the first public figures who was a victim of revenge porn," Chambers said, "and ever since have been trying to pursue justice for myself as well as other victims."
Chambers explained how she is currently pursuing the first civil lawsuit in the United Kingdom against revenge porn. In the U.S., 34 states have some law regarding revenge porn, but there is no federal law criminalizing revenge porn, she said.
"What you will do to ensure that there is a federal passed so that justice can be pursued and gotten for victims like myself … And perpetrators can be held accountable for sexual assault, digital privacy invasion, and this horrible crime that ruins so many people's lives and almost ruined mine?" she asked Clinton.
The presumptive Democratic presidential nominee thanked Chambers for her bravery in speaking out about the issue and vowed, "I will do everything I can as president to try and figure out how we can give victims like you the tools you need, and the rest of society should support, to be able to protect yourself and, by doing so, protect others."
Then Clinton looked to the audience and added, "I would really look to all of you." Online bullying, harassment, revenge porn, and cyberstalking "ruin lives," she said, but those deeply engaged in online communities have helped many victims.
Clinton added that she's "exhibit A" when it comes to bad things being said about a person on the internet. "But when it crosses a line, when it becomes so threatening, so dangerous, we have to stop it," she said.
That line was crossed for Chambers in 2015 when her ex-boyfriend secretly recorded them having sex while she was passed out and then posted the footage on some amateur-porn sites a year after their breakup, she told The Guardian.
"I had been assaulted because I was unconscious when the videos were filmed," Chambers told ABC News. "Someone was posting on our channel links to the videos to our fans and we couldn't even keep up … that this person you cared about so much could betray you in such an intense way. It was horrific."
Chambers's YouTube channel BriaAndChrissy boasts more than half a million subscribers, and videos of the singing duo have been viewed more than 220 million times. It was through their followers that Chambers found out her ex had posted the video of them online.
"We had these 14-year-old girls that we've been trying to inspire writing [to] us and saying: 'I had so much respect for you and now you're a porn star.'" Chambers told The Guardian. "'You're such a slut. How could I respect you?'"
Taking legal action against the people who post revenge-porn videos online and the websites that host them can be tricky. Current laws protect websites from prosecution when the content is uploaded by users, which is the case in many instances.
"It's still oftentimes really, really hard to get law enforcers to take complaints seriously and to get investigators and detectives to use their limited resources to investigate these cases, and to get prosecutors and judges to also see these cases through the end," Carrie Goldberg, an attorney who handles internet privacy and sexual consent cases, told ABC News.
There are currently an estimated 2,000 websites dedicated to revenge porn on the web.