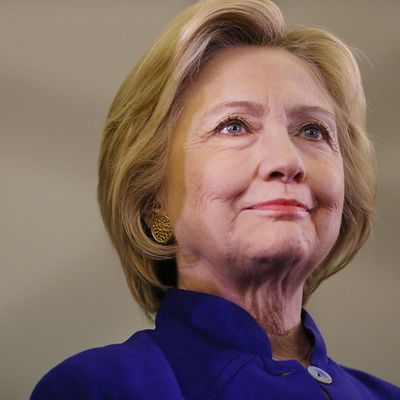 Photo: Spencer Platt/2016 Getty Images
Hillary Clinton has clinched the number of delegates needed to make her the presumptive Democratic nominee, becoming the first woman to ever head the ticket of a major U.S. political party. According to the Associated Press, a tally of delegates pledged in primaries and caucuses as well as a survey of superdelegates shows Clinton has commitments from the 2,383 delegates needed to win the Democratic nomination.
Clinton, like Trump on the Republican side, is now her party's presumptive nominee. She'll officially accept the nomination at the Democratic National Convention in Philadelphia in July. Clinton's campaign acknowledged the news but played it cool, saying the AP's announcement was an "important milestone" but it's still looking ahead to the wave of primaries on Tuesday.
"There are six states that are voting Tuesday, with millions of people heading to the polls," Clinton's campaign manager, Robby Mook, said in a statement. "We look forward to Tuesday night, when Hillary Clinton will clinch not only a win in the popular vote, but also the majority of pledged delegates."
Speaking at a rally in Long Beach, California, Clinton echoed Mook's statement and urged Democrats — hint hint, Sanders supporters — to find common ground. "We've got to listen to and learn from each other," she said. "No one has all the answers. I will go anywhere any time to seek common ground." And in an interview with MSNBC's Rachel Maddow Monday night, Clinton said she planned to reach out to Sanders on Tuesday. The Sanders campaign, however, was having none of it.
"Secretary Clinton does not have and will not have the requisite number of pledged delegates to secure the nomination," the Sanders campaign said in a statement. "She will be dependent on superdelegates who cannot vote until July 25 and who can change their minds between now and then."