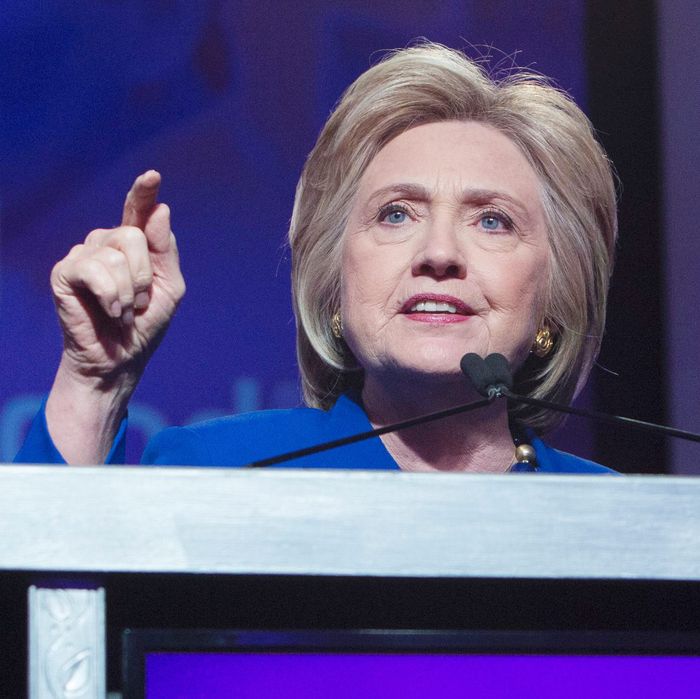 Hillary Clinton.
Photo: CHRIS KLEPONIS/AFP/Getty Images
Hillary Clinton spoke to Planned Parenthood Action Fund this afternoon in Washington and warned that a Trump presidency would be disastrous for women's reproductive health.
Clinton mentioned early in her speech that access to affordable contraception and safe, legal abortion is a boon for both women's health and the economy. "Being able to plan their families not only saved women's lives it also transformed them, because it meant that women were able to get educations, build careers, enter new fields, and rise as far as their talent will take them — all of the opportunities that follow when women are able to stay healthy and choose whether and when to become mothers."
Her opponent, Donald Trump, has said his Supreme Court nominee would be pro-life, that there should also be "some form of punishment" for abortion, and, even though Planned Parenthood helps "millions and millions of women," he'd still defund it "because of the abortion factor."
"That's someone who doesn't hold women in high regard, because if he did, he would trust women to make the right decisions for ourselves," Clinton said in her first major policy address as the presumptive Democratic presidential nominee (you can watch the whole speech at C-SPAN). "After all, this is a man who has called women pigs, dogs, and disgusting animals." She added, "Donald Trump has shown us who he is and we sure should believe him."
"When Donald Trump says 'Let's make America great again,' that is code for let's take America backward. Back to a time when opportunity and dignity were reserved for some, not all. Back to the days when abortion was illegal, women had far fewer options, and life for two many women and girls was limited," she said. "Well, Donald, those days are over."
Clinton pointed out that, even now, Planned Parenthood is under attack by Republicans in Congress and state legislatures. There have been more than 400 abortion restrictions introduced by states in the first three months of 2016 and 11 states have defunded Planned Parenthood in the past year, cutting some women off from their only health care provider.
She came for anti-choicers of the Republican party, too. "Have you ever noticed that the same politicians who are against sex education, birth control, and safe and legal abortion are also against policies that would make it easier to raise a child, like paid family leave? They are for limited government everywhere except when it comes to interfering with women's choices and rights … If right-wing politicians actually cared as much about protecting women's health as they say the do, they'd join me in calling for more federal funding for Planned Parenthood."
Clinton also spoke about raising the minimum wage, equal pay, racism, and gun violence, which might seem slightly out of place in a speech about women's reproductive rights. "All the issues that we're talking about today are connected, they intersect … All these issues go straight to that fundamental question, whether we believe women and families of all races, and backgrounds, and income levels deserve an equal shot in life. Now that's what I believe, and you won't be surprised to hear that Donald Trump believes something very different."
"We're in the middle of a concerted, persistent assault on women's health across the country. We have to ask ourselves, 'Do we want to put our health, our lives, and our futures in Donald Trump's hands?'"
Donald and pro-life Republicans: yaburnt.