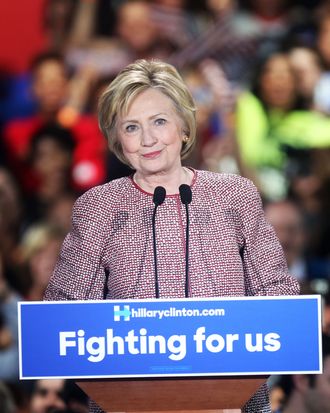 Hillary Clinton wears a Giorgio Armani jacket in April.
Photo: Steve Sands/Getty Images
Back in April, Hillary Clinton celebrated her victory in New York's primary and gave a speech that reflected on income inequality, promising to "mak[e] sure all our kids get a good education no matter what Zip Code they live in" and "revitalize places that have been left out and left behind — from inner cities to coal country to Indian country." But it's just now becoming known that she wore a Giorgio Armani jacket to that speech, one that retails for $12,495. (Apparently, political fashion credits are a little harder to track down than those from, say, the CFDAs.) And the presumptive Democratic nominee has now come under some scrutiny, with Twitter reactions ranging from outrage to sarcasm ("She's so relatable.").
Clinton's certainly not alone in getting dragged for spending a lot of money on appearance: The infamous jacket now joins a political-fashion pantheon that includes John Edwards's $400 haircut, Michelle Obama's $540 Lanvin sneakers, Ann Romney's $990 Reed Krakoff blouse, and Sarah Palin's $150,000 shopping spree. Still, she has her staunch defenders.