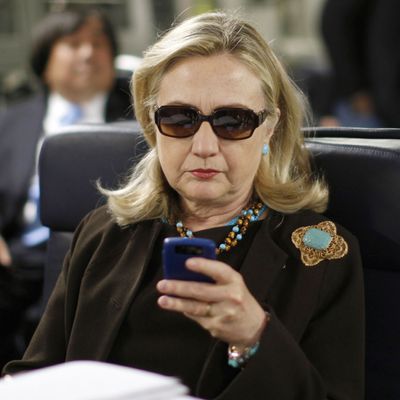 It turns out that iconic photo of Hillary Clinton wearing sunglasses while using a Blackberry not only launched a thousand memes, but the entire investigation about her private email account.
During a deposition held on Wednesday, it was revealed that Freedom of Information Act official Clarence Finney first inquired about whether Clinton had been assigned a state.gov email address after the image went viral and spawned a "Texts From Hillary" Tumblr account (which means that the government officials in charge of monitoring Clinton's email use didn't even think about whether or not she was using a private email address … until they were just browsing the web like the rest of us civilians). Before last spring, Clinton even used the picture as part of her branding on social media.
State Director of Executive Secretariat Staff Karin Lang explained, "When Mrs. Clinton's photo appeared in the media with her using — appearing to use some sort of a mobile device, Clarence Finney checked with [information management staff] to confirm … whether the answer was still that she did not have a State.gov e-mail account."
No word on whether Clinton has also encouraged Clarence Finney to delete his account.