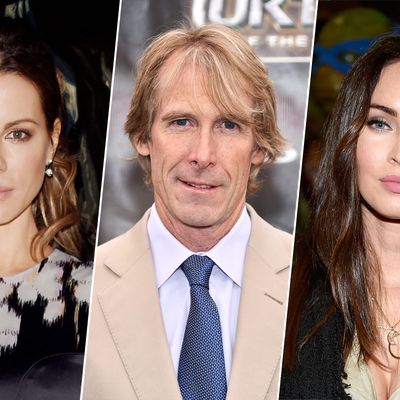 Kate Beckinsale, Michael Bay, Megan Fox
Photo: Getty Images
Michael Bay is famous for making movies with large explosion sequences for teen boys and men who are, for all intents and purposes, still teen boys. The women who have appeared in his oeuvre are disposable, objectified, and preternaturally tan.
He's currently receiving flak after Kate Beckinsale admitted that he forced her to lose weight for her 2001 role in Pearl Harbor. But, looking back, his comments and behavior over the years have been steeped in the male chauvinism that's reflected constantly in his films. (Life imitates art imitates life, etc.)
Here's a refresher on what Beckinsale had said about him, from the Cut's report on Tuesday:
"I don't think I fit the type of actress Michael Bay had met before," the actress recalled on The Graham Norton Show. "I think he was baffled by me because my boobs weren't bigger than my head and I wasn't blond."

"I'd just had my daughter and had lost weight … but I was told that if I got the part, I'd have to work out," she continued. "And I just didn't understand why a 1940s nurse would do that."
In a 2001 interview with Movieline, he managed to insult Beckinsale, Kate Winslet, and women in general in an answer to a question about why he cast Beckinsale: 
"I didn't want someone who was too beautiful. Women feel disturbed when they see someone's too pretty. When you look at Titanic, Kate Winslet is pretty, but not overwhelmingly beautiful. That makes it work better for women."
In an article published Wednesday by the Daily Beast, Marlow Stern recalls Bay's overwhelmingly creepy behavior around Megan Fox. Some reports claim that Fox was ultimately fired from the Transformers franchise, while others say she left due to Bay's "verbally abusive" behavior.
Back in 2009, The Observer's Jason Solomons wrote about how Megan Fox got her role as midriff-baring Mikaela Banes in the first two Transformers films: "She told me she went to director Michael Bay's house to audition and he made her wash his Ferrari while he filmed her. She said she didn't know what had happened to the footage. When I put it to Bay himself, he looked suitably abashed. 'Er, I don't know where it is either.'"

"The first time I ever met him, I was 15 and I was an extra on Bad Boys II," Fox told Jimmy Kimmel. "We were shooting this club scene, and they brought me in, and I was wearing a stars and stripes bikini and a red cowboy hat, and six-inch heels. And they took me to Mike and he approved it. And they said, 'You know, Michael, she's 15, so you can't sit her at the bar and she can't have a drink in her hand.' So his solution to that problem was to then have me dancing underneath a waterfall getting soaking wet. And that's… At 15. I was in 10th grade. So that's sort of a microcosm of how Bay's mind works."
Meanwhile, her Transformers co-star Shia LaBeouf told the L.A. Times that Fox was uncomfortable with the way Bay filmed women:
"Megan developed this Spice Girl strength, this woman-empowerment [stuff] that made her feel awkward about her involvement with Michael, who some people think is a very lascivious filmmaker, the way he films women," LaBeouf said. "Mike films women in a way that appeals to a 16-year-old sexuality. It's summer. It's Michael's style. And I think [Fox] never got comfortable with it. This is a girl who was taken from complete obscurity and placed in a sex-driven role in front of the whole world and told she was the sexiest woman in America. And she had a hard time accepting it. When Mike would ask her to do specific things, there was no time for fluffy talk. We're on the run. And the one thing Mike lacks is tact. There's no time for [LaBeouf assumes a gentle voice] 'I would like you to just arch your back 70 degrees.'"
In a 2011 GQ oral history of Michael Bay, friends, family members, colleagues, and even Bay himself are interviewed about the director. (One gem that emerges is that a friend "just can't see him with somebody over 35." Bay is 51.) Brad Fuller, his Platinum Dunes partner, shared the following anecdote:
The first time I saw Michael on a bigger set, he was doing a video, and there was the hottest blonde girl I've ever seen in my life, and she's got a wind machine on her. She's dancing, she looks hot, she's wearing a short skirt. He's shooting her from a low angle. And he looked at a few of us, and there was this look in his eyes, like he had reached nirvana. It was childlike wonderment.
And in an outtake of the GQ oral history, model Rosie Huntington-Whiteley — who replaced Fox in the Transformers franchise and otherwise has very nice things to say about Bay — shared the following anecdote of how they met.
"I first met Michael back in 2009; it was on the set of the Christmas commercial for Victoria's Secret. I remember the first thing Michael said to me— before he even introduced himself or asked me my name—was  "Can you walk?" And I looked at him like, "What is this man talking about? Yeah, of course I can walk." And then he proceeded to tell them to get me in the car, and then I was driven—I mean, honestly, I want to say it was about half a mile out in the desert. I kept thinking, "This is a joke, right?" And the car dumped me in the middle of the desert. All I was wearing was a bra and underwear and a big, billowing, black, floor-length cape and high heels. And he says, "OK, when we shout action, you're going to walk!" and I assumed I would be doing this in several stages. They yelled action, and the car sped off back to set, and I just was like, "Well, what am I supposed to do?" So I walked all the way back to where the camera was standing, which took me—I would say a good 10, 12 minutes, and it was a proper runway stomp—on salt flats; it was like 100 degrees, felt like fire. I remember walking back and being not impressed by the whole thing. I was pretty pissed off afterwards; I just looked at Michael, and he goes, "I guess you can walk, then."
And finally, in a 2005 joint interview between Bay and colleague Scarlett Johansson about The Island, they're asked, "What will we see on the DVD?" Bay's response:
Scarlett naked.
What a guy!