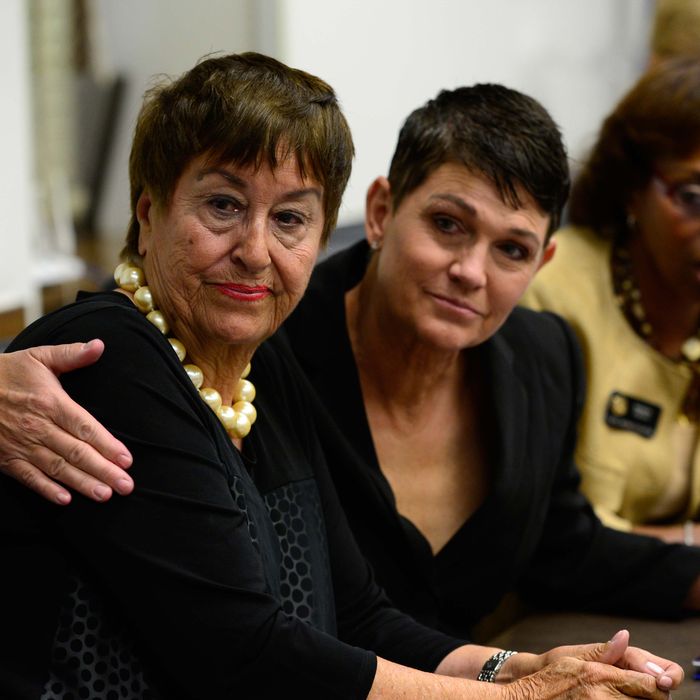 Helen Hayes (L) and Beth Ferrier (R) testify in support of the Colorado statute of limitations bill.
Photo: Kathryn Scott Osler/Copyright - 2015 The Denver Post, MediaNews Group.
Beth Ferrier made dozens and dozens phone calls. She wrote dozens and dozens of letters and emails, each personalized, to members of the Colorado House of Representatives. Her goal: to get someone to sponsor a bill that would eliminate or extend the statute of limitations for sexual assault in Colorado.
She began this campaign last summer. About 30 years earlier, Ferrier met Bill Cosby through her agent. They had a brief, consensual affair, and broke up. A few weeks later, Cosby invited her to see his show in Denver. She says he gave her a cappuccino. She drank it, and woke up alone in the back of her car, her bra unhooked.
"It's still like a slap in the face until we actually have our day in court and help the others who are getting to go to court, or we get the statute of limitations to change," Ferrier told New York Magazine last year. "It makes me really angry. I can't feel happiness. I felt very sad and alone. But I'm not afraid of him anymore."
Less than a year after Ferrier, along with 34 other women, recounted her story in our cover feature, she will see at least one of those goals fulfilled. Today, Colorado Governor John Hickenlooper signs a law increasing her state's statute of limitations to 20 years, from 10 for adults.
Ferrier will attend the bill signing. "It will put a face to us, to me," she says. "It will show people who are the victims."
Ferrier and Heidi Thomas, a Colorado resident who came forward last year and said she'd been drugged and assaulted by Cosby in 1984, crusaded hard for the bill and pushed it forward in their state. They retold their personal stories and testified in front of lawmakers in support of the legislation, along with Helen Hayes, a Cosby survivor who lives in California. Colorado's is the latest statute-of-limitations expansion driven by Cosby accusers. Women in California are fighting to completely abolish the statute of limitations. (Colorado's bill to eliminate time limits failed, and was replaced with the 20-year maximum.) Lise Lotte Lublin pressed for change in Nevada last year, and won. Alleged victims now have 20 years, instead of four, to report a rape.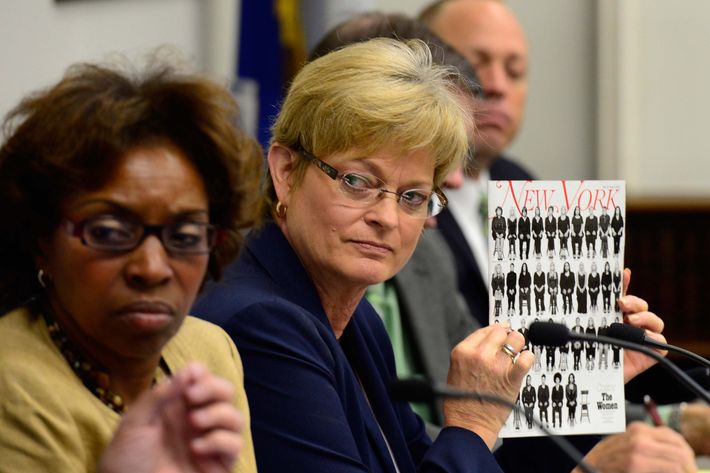 "It takes people decades, and it takes a level of maturity to be able to face [sexual assault]," Thomas said, as to why she got involved. The fight to extend the statute of limitations is one that neither she nor Ferrier saw coming, at first. But it made sense — for her, and so many of the survivors who now were, with all its complications, a public face of sexual assault. "There's a sense of activism and advocacy that I don't think many of us saw coming," Thomas said. "I certainly didn't see this coming."
Ferrier and Thomas's fight started off slow, and at first they got no response from lawmakers. Finally, in the middle of July, someone called back: Colorado representative Rhonda Fields. "She just kept emailing me," Fields said. "I called her and she told me her story. I wanted to champion the cause." Fields sponsored the bill — working title HB1260 — in the Colorado House, where it passed in February.
Two state senators, Republican John Cooke and Democrat Mike Johnston, a Democrat co-sponsored the legislation in the state Senate. Cooke, who has a background in law enforcement, said ten years for sex assault didn't add up. "Rape is such a violent crime," he said. "We have no statute of limitations on homicide or kidnapping." The bill passed in April, with a few tweaks on the House version. The legislation has been awaiting the governor's signature since May.
The law will go into effect July 1. The change in the statute-of-limitations is not retroactive, so barring any new cases, Cosby's Colorado accusers can never file a complaint. Close to 60 women have come out with allegations against Cosby, but the only criminal case likely to go forward is that of a 2004 alleged Pennsylvania incident. The alleged victim, Andrea Constand, went to police in 2005, a year after she said Cosby had drugged and molested her in his home. Prosecutors declined to bring charges then, but about a decade later prosecutors reopened the case and formally filed charges against Cosby last December. They did so just in time. Pennsylvania's 12-year statute of limitations had almost run out.
The law change in Colorado points to a greater public understanding of the brutal trauma and reckoning that follows sexual assault. "The most important part is that the state is hospitable and supportive," Senator Johnston said. "[there's] a chance to make their case and to at least leave the doors of justice open for a while longer." Survivors know that they're often facing long odds in these cases, especially as time passes, but the extension protects their right to seek justice when, and if, they're ready.
"You get a law passed like this," Thomas said, "there's tangible proof that somebody listened."