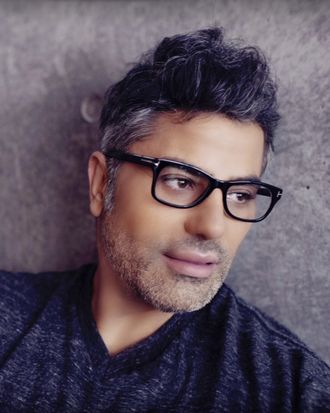 David Babaii doesn't like second-day hair. Gasp.
Photo: Carl Drury/Courtesy of David Babaii
The number of things you share with Angelina Jolie is probably precisely zero. But if you're in New York, that could change starting June 30, when her hairstylist, David Babaii, takes up a limited monthly stint at Sharon Dorram Color at Sally Hershberger Salon. Babaii, who also counts Kate Hudson and Gwyneth Paltrow as clients, talked to the Cut about life after beach waves, that time he burned Goop's hair, and the pernicious myth that you can't wash your hair every day.
How did you start your career?
Back in the day, I was the food and beverage director of a worldwide luxury hotel chain. But it wasn't what I wanted to do. I had no holidays, no Christmas. I was vacationing with my parents, and we never really did anything touristy, but my mom asked if I wanted to go to the Eiffel Tower. She later told me she sensed I had anxiety and was withdrawn.
When we got there, I broke down and told her what I was doing wasn't creative or artistic. I didn't think my parents would be cool with me becoming a hairstylist. But my mom was like, "What don't you start taking classes and get into it?" And I said, "I would love it. But would Dad be okay with it?" She winked and said, "Don't worry about it. I'll take care of it."
I went to Vidal Sassoon, which was really hard. I finished school and then took the State Boards in California and got the highest score of the day. Back then, I would give anybody that wanted a haircut a cut. My poor dogs were getting cuts. But literally anyone!
And at one point, I gave Brad Cafarelli, Kate Hudson's publicist, a cut, and he asked if I wanted to do Kate for Interview Magazine. This was when Almost Famous came out, so I was like, Who is Kate Hudson? What is Interview Magazine? Then, next thing I knew, I was reading the curling-iron instructions on-set.
That was the start of my career. The week after was the Golden Globes; Vogue named me King of Curls, and then I started working with Angelina Jolie and Nicole Kidman. I started shooting covers of Vogue Italia with Peter Lindbergh and I've been lucky to work with him for 15 years. It's been very surreal.
You're known for your waves and we've been seeing beachy hair for years now. What's next?
I feel the beachy waves are going to be more refined. If you're going to curl it, the ends should be more straight, versus having the curl all the way down. It's going to be much looser. As someone who's had it as a staple of my career, now I'm sick of it. I do way less. I use a much larger barrel. If before, maybe you used a 0.5, up it by one to a 1.5.
At the last Golden Globes, with Kate [Hudson's] hair, I used a two-inch. I took it up a step. I wrap it around the iron, take it off, and then stretch the hair before it cools. But in some areas, I won't stretch it as hard. For example, at the sides of temples, I want volume, so I'll stretch it less. It's also important to alternate directions as much as humanly possible. But stay realistic to what you can do without burning your ears off. I once put on a wig and started to curl my own hair, and I still have the burns to prove it. My biggest pet peeve is that I don't like a perfect wave where both sides match. I wouldn't want to make a girl look like too perfect because no one's hair is really like that.
What is a topic that you feel like needs more coverage?
Oh, the No. 1 thing: It's a myth that you can't wash your hair every day. I think that's a joke, and it's disgusting. The right products are out there, so you can wash it every day. I had this client and I was always petrified to do her hair, and she was the movie star of movie stars. But her hair was always greasy!
A year later, I finally grew a pair. I said, "Why is your hair so greasy?" And she finally said it was because I don't rinse my conditioner. I was like, What moron told you that? She said, "My hairstylist on movies."
So I called a dozen different labs in London, Tokyo, everyone, and they all said the purpose of conditioner is to put hydration back into your hair, and you are supposed to rinse it. I think it's better for your hair.
For example, Gwyneth [Paltrow] works out like crazy. And she has crazy curly hair. We were in London. She had washed her hair. It naturally dried. The she worked out, and had taken a body shower. So it was still a little wet. I blow dried it, and then, well, I actually burned her hair.
Wait, so not washing your hair can cause it to burn?!?
Definitely. There's buildup on the hair, along with oxidation. Then it's infused with heat, popping the cuticle open. There can be breakage from using the flatiron, and not the right primer, or the right tools. Buildup isn't the best thing for your hair. Obviously, you need to find the right regimen. But it's better for your scalp and the follicles not to be clogged. If you don't wash your face, you get zits and clogged pores. Same thing!
And I know this is the case with hair transplants. I have them and I wanted to test them out. I saw this guy who is the world's renowned hair-transplant doctor, and he said if your hair isn't clean, it's not going to come in thick and strong. Obviously, it depends on your hair. If you have crazy, thick hair, and it isn't oily, then it's fine. And look, I owned a chain of blow-dry bars. Some people would be like, I haven't washed my hair in five days. And I'd be like, And you work out every day. What does your pillow smell like? Eeee.
This interview has been condensed and edited.