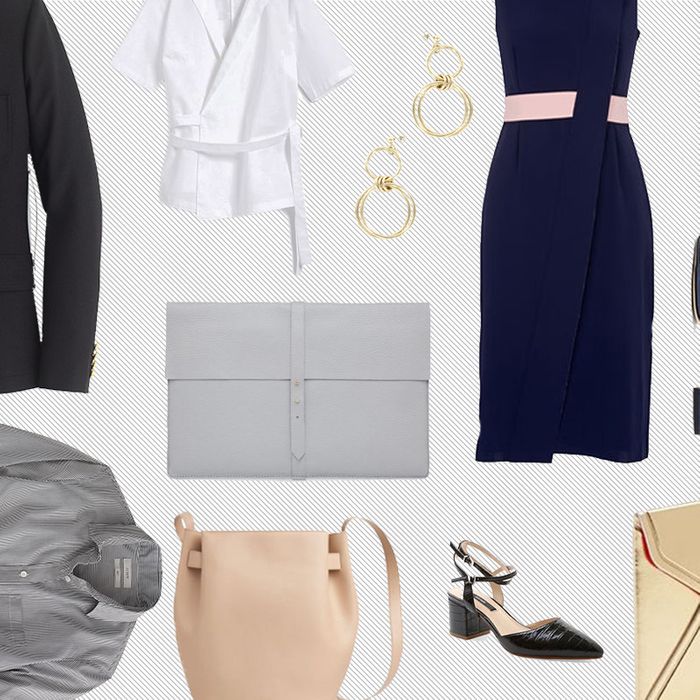 Handing out your résumé to virtually everyone you know finally paid off, and the higher-ups liked you enough to give you your first gig. Congratulations! With the hardest part over — including putting together the perfect interview outfit — the real fun begins: building your work wardrobe from scratch.
Unfortunately, being a rookie on the career ladder doesn't leave much room to splurge on big designer names. You'll need to decide which pieces are worthy of a splurge now, and which items can stay on your Pinterest board until that raise.
To help you make that call, we've selected key pieces you should have in your closet to kick-start your budding career — sorted by exactly how corporate your new environment might be. Scroll ahead to see them all.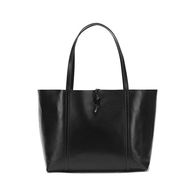 Work Tote

Even if you decide not to spend a lot on clothes, it's worth expending a few more dollars on the right accessories. You can wear the breaks off this Kara bag for years to come, and since it's constructed out of structured vegetable-tanned leather, it's down for the task.
Kara Black Tie Tote, $495 at Forward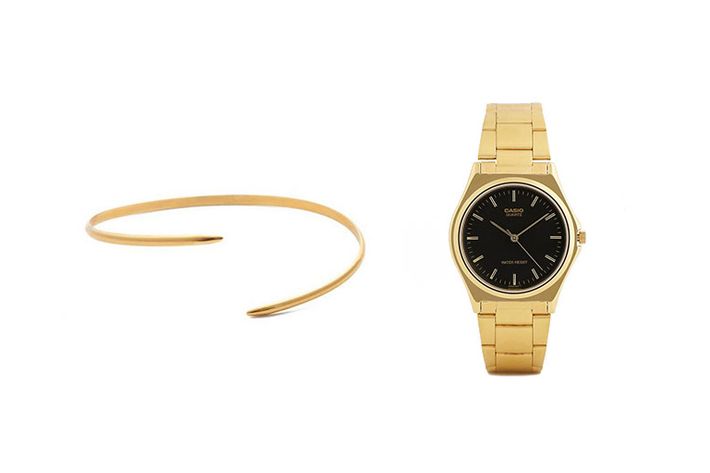 Here's an area where you don't have to ball out. This gold vermeil bracelet looks like gold without the price tag. And the watch projects sophistication, which is really its only job, since most of us use our phones to check the time anyway. Casio watches are classics for a reason — they look amazing and are valiantly waterproof. It also helps that it's less than $75.
Modern Citizen 14K-gold open-wrap cuff, $75 at Modern Citizen; Casio watch, $65 at Asos
Blazer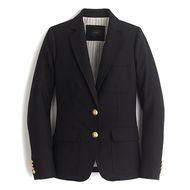 The fancy gold buttons on this J.Crew blazer look polished even when the rest of your outfit is a T-shirt and basic trousers. To get more variety out of your looks, choose a stand-out blazer that looks different from your suiting jackets.
J.Crew Rhodes Blazer, $248 at J.Crew
"Grown-up" Pumps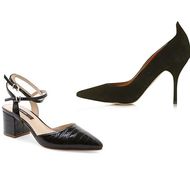 Climbing the career ladder is already tough — don't make it harder for yourself in five-inch heels. If there's anything you should splurge on, it's nice and comfortable shoes. In this case, those budget pairs you wore during college won't quite cut it. Invest in a pair of black leather point-toe pumps, and keep a pair of dressy flats on standby when the going gets tough.
Topshop 'Giddy' Curve Tab Court Shoes, $100 at Topshop; Kensie Begum leather dress pumps, $89 at Lord & Taylor
A Laptop Case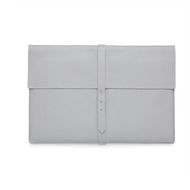 It's the little things that make you come across like a bona fide professional. A simple yet chic laptop case shows you care about the details, plus it'll be a nice eye catcher during your presentations.
Cuyana leather laptop sleeve, $125 at Cuyana
A Non-Boring Shift Dress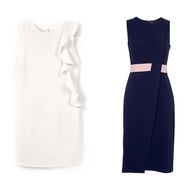 By the time you're 30, you'll probably rack up a collection of these. Make your first couple of sheaths interesting — you owe it to yourself.
Mango off-shoulder dress, $40 at Mango; Whistles Contrast Front-Split Dress, $180 at Whistles
Striped Button-Down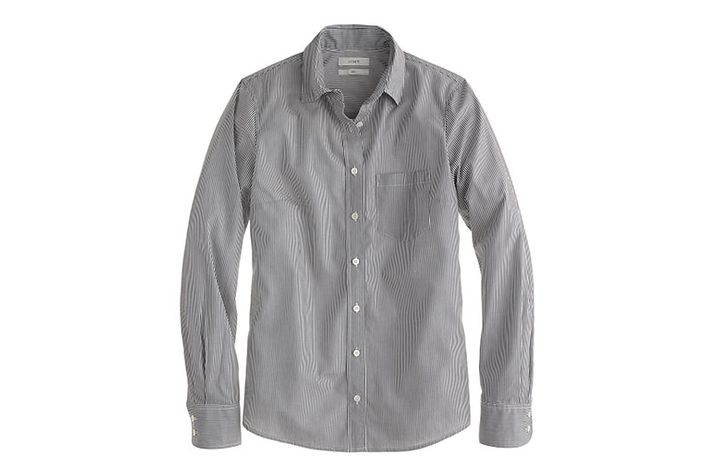 Corporate office environments usually don't leave a lot of room to experiment with styling. To make it feel a little less sterile, skip a white button-down in favor of an unexpected stripe pattern, like this one from J.Crew.
J.Crew boy shirt, $70 at J.Crew
Suit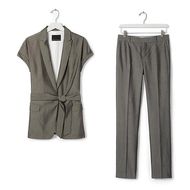 You'll need a stylish suit to break out during high-pressure moments. Banana Republic's suit is a unique and youthful twist on a work-wardrobe staple.
Banana Republic tie-front tuxedo vest, $138 at Banana Republic; Banana Republic Avery Fit gray crop pants, $98 at Banana Republic
Wrap Dress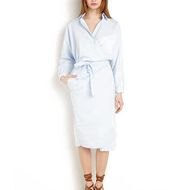 Just a warning: By the end of your first month at the job, you'll probably be sick of sheath dresses. Here's a nice option to wear when that happens.
Nina blue wrap shirtdress, $98 at Pixie Market
Silk Camisole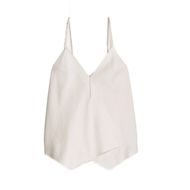 Great for layering underneath suits or cardigans, as an extra-polished detail.
Babton Jace blouse, $80 at Aritzia
Your First Job: Creative Work Environment
Bodysuit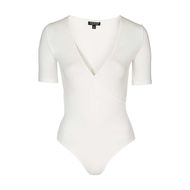 The key to establishing a solid work wardrobe is loading up on the basics, like this bodysuit from Topshop. Whether skirts or trousers are more your speed, a good bodysuit will come in handy for layering underneath sweaters or jackets.
Topshop wrap-front body, $24 at Topshop
Crepe Trousers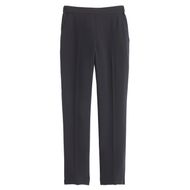 A well-fitting trouser is a must for any closet, but a pair in a crepe material looks extra crisp and sophisticated.
J.Crew matte crepe trouser, $110 at J.Crew
Sensible Heels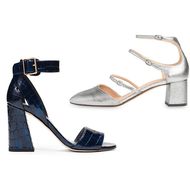 The first thing most people notice are your shoes, so here's your chance to make a good impression. A good marriage between practicality and style is essential, because the reality is you'll be spending some time on your feet. Go for designers that cater to comfort and construction like Stuart Weitzman and Whistles.
Stuart Weitzman the Mostly Sandal, $255 at Stuart Weitzman; Whistles Montana Strappy Mid Mary Jane sandal, $320 at Whistles
A Desk-to-Drinks Leather Bag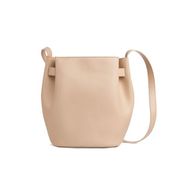 A logo-less leather bag is an easy way to fool everyone into thinking you've splurged. You can't tell that Cuyana's collection of minimal Italian leather purses cost any less than a big-name designer. The cinch style is a versatile shape that looks good during work or leisure.
Cuyana structured cinch bag, $295 at Cuyana
A Whimsical Dress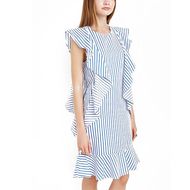 If you fall victim to a faulty alarm or a late night out, throw this on and your morning is saved.
Nina blue wrap shirtdress, $98 at Pixie Market
Jumpsuit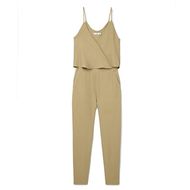 If your work environment permits you to wear a jumpsuit, take advantage. You can always throw a top over this relatively inexpensive one from Mango and wear it as pants. Double efficiency!
Mango Wrap Long Jumpsuit, $40 at Mango

Long-Line Vest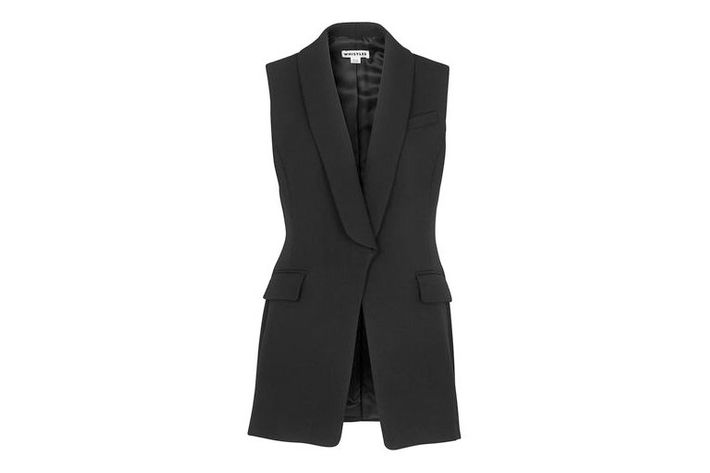 When the clothing rules are more lax, a rigid blazer can come across as overkill for a person just starting out. A tailored long-line vest is a more casual alternative you can layer come autumn.
Whistles Mia sleeveless textured jacket, $190 at Whistles
Jewelry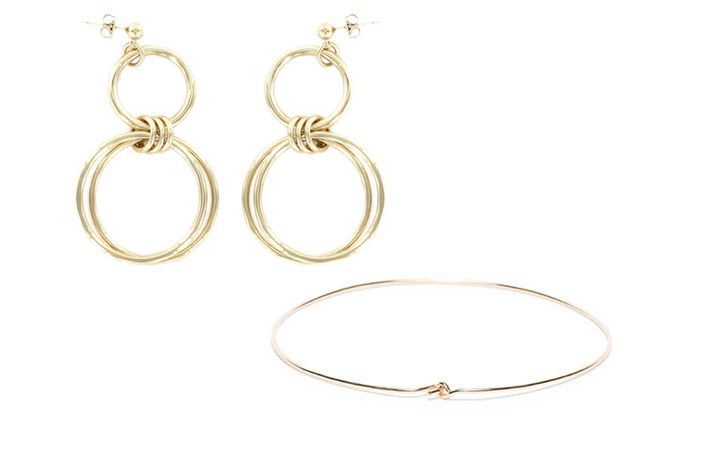 At this stage in the game, it's not absolutely necessary to invest in a luxury timepiece, and with an entry-level salary, most fine jewelry is beyond reach. Try lower-cost metals like brass or vermeil gold; they still looks fancy, but at a fraction of the price. Stick with delicate or minimal pieces you can wear every day, like a thin gold choker and geometric yet feminine earrings.
Winden Choker, $120 at Winden; Justine Clenquet Alice earrings, $90 at Opening Ceremony

Card Case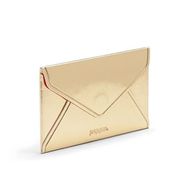 Networking is an inevitable part of any job, and if you're really serious about it, you've already ordered your first set of cards. Keep them organized in this shiny card case.
Poppin gold card case, $6 at Poppin
Crisp White Blouse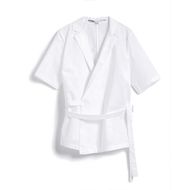 There's nothing like a fresh white blouse to give your outfit an extra glow and a dash of sophistication. Just carry a bleach pen in your purse for emergencies.
Just Female Garth shirt, $91 at Need Supply
Pleated Skirt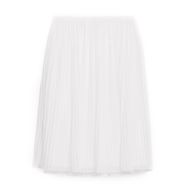 A pleated skirt may not sound like an obvious staple, but you'll be glad you bought one. It's the ultimate compromise between playfulness and professionalism that you can dress down with a denim jacket or dress up with a long-line vest.
Zara pleated midi skirt, $40 at Zara