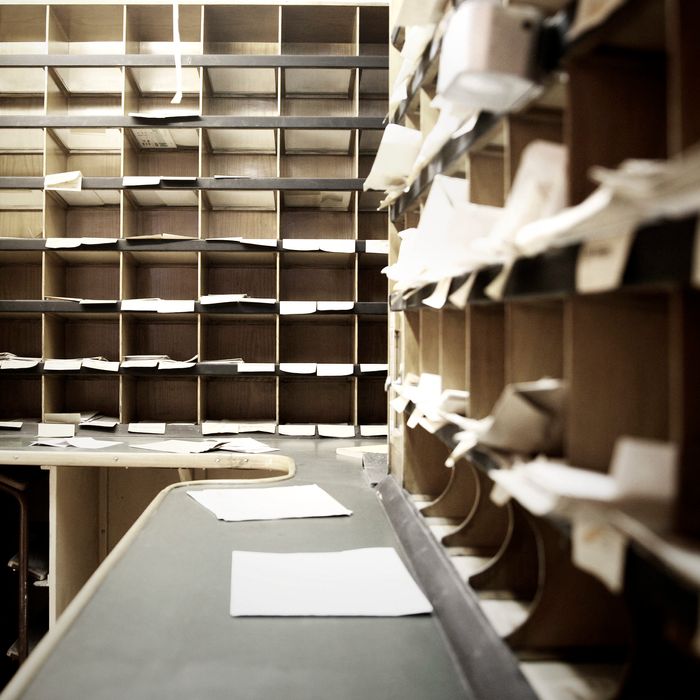 New York's Sex Diaries series asks anonymous city dwellers to record a week in their sex lives — with comic, tragic, often sexy, and always revealing results. This week, a 41-year-old woman scoping out threesomes on Craigslist: 41, straight, single, Westchester.
DAY ONE
8:05 a.m. Wake up, lie in bed, and contemplate whether I have time to rub one out before work. I really want to stop and get a coffee and need to get to work, so I decide against it.
8:45 a.m. Check my phone and see that Justin has sent me a video at 6:54 a.m. I watch him jerk off with audio commentary about how he wants to come on my pretty face. I've been out of the dating game for a while, having spent the previous seven years in a relationship: When did jerking off on a girl's face become a thing? (That, and rimming.)
Justin and I had a regular sex appointment every Thursday until late last year, when he suddenly got very cold. Maybe he finally got some head from his girlfriend, or maybe he decided that one woman was all he could handle. In any case, he reappears periodically and I go with it because there is something that keeps me hooked in. Maybe it's because he loves licking my pussy and asshole — two of my new favorite things — or how much I enjoy watching him watch me swallow his cock.
1:00 p.m. We text on and off throughout the day and tell each other fantasies we'd like to act out. In his, he surprises me in a bar, follows me into the bathroom, rips my panties off, fucks me on the sink, and comes inside me. I then return to my friends while his cum slowly drips out of me — our little secret. I tell him a story where he's pounding me and I surprise him with another girl who wants it in the ass. The story is so hot, and my panties are soaked. He asks me to send them to him so he can smell them. This will be the third pair of my panties in his collection.
11:55 p.m. I replay the story in my head. Masturbate and come twice. I record the audio to send to him.
Day 2
8:35 a.m. Wake up, masturbate. I get a message from Justin that he listened to me come on his commute and has a massive hard-on. Mission accomplished. He said he could actually hear how wet I was. Really? I've gotta hear this for myself.
10:30 a.m. Go to the mailroom and ask how much postage I need for my package. Just three stamps.
12:30 p.m. Attend a work event. I really hate making small talk, but it's part of the job. I've worked for the same firm for ten years and am liked and well respected. Gosh, what would people think about the head of HR recording her orgasms and sending her thong through the USPS?
5:45 p.m.  Meet a friend at a Thai restaurant. She catches me up on what her three kids (an 18-month-old, a 6-year-old, and a 10-year-old) are up to. Of all my friends, she's the last I'd share the details of my sex life with. I throw back two glasses of Sauvignon Blanc and head home.
DAY THREE
7:00 a.m. Alarm clock goes off, hit snooze four times, and grudgingly roll out of bed. I have to get to the office on time today for a 9 a.m. morning meeting. Meetings before ten should be against company policy.
3:35 p.m. In yet another meeting and get a text alert from "Josh – OKC." I can't read it now, but it makes me happy. Something to look forward to once this meeting is over. I had a first date with Josh last week, and it went exceedingly well. He's in pharmaceutical sales, so charm is a prerequisite for the job. He's also one of the few normal guys to have messaged me from OKC. We ended the date with a one-armed hug and a kiss on the cheek. He's nice, and this actually has some potential, so I want to be a bit conservative with my affection — otherwise, it could easily transition into a casual situation, and I've already met my quota on those.
6:30 p.m. I arrive at my weekly therapy session. I've been seeing my therapist, Jillian, for years. She asks me if I'm in these casual relationships because they make me feel less vulnerable — she's doing that therapist thing where she poses a question but is really just stating her opinion. Maybe she's right, but maybe I'm just horny and like pushing boundaries. My friends and colleagues see me as a smart, responsible, driven adult, but having this other side to me is so much fun. I question whether I really want to be in a monogamous relationship. It would be nice to have someone to cuddle with on those cold wintry nights, but doing naughty things with multiple partners also has its appeal. And are the two mutually exclusive?
11:19 p.m. I've been thinking about Eddie all day and wondering if he fucked his BFF … I met Eddie through Craigslist while seeking out an M for an MFM threesome with my fuck buddy Seth. Eddie is 30 years old and a musician. Prior to this, the only thing I ever browsed on CL was mid-century furniture; Seth suggested the threesome, and when some other options fell through, he told me to look there. I've fucked Eddie twice on my own since the threesome. He has another friend who says she wants to have a threesome, and he sent me a few photos of her topless — I don't know that I'm all the way attracted to her, but I think I can make it work. I still have my period, which puts me out of commission, so the two of them have decided to hook up tonight to test the waters.
Plus Seth, Eddie, and I have a fuck date planned for later in the week (Seth initiated). Seth promises to suck Eddie's dick with me the next time.  Neither of them are into guys, but they're flexible enough to keep it interesting. Eddie's going on tour soon, and if we can't get something going in the next few days, I don't know when we'll have the opportunity again.
DAY FOUR
8:30 a.m. Wake up, masturbate, come several times!
10:00 a.m. I'm excited that I don't have any meeting scheduled so that I can actually accomplish some things.
1:00 p.m. Send Eddie a text: "Hi Eddie"
5:15 p.m. Meet co-workers for happy hour. Married men love to flirt and live vicariously through dating stories. All of my close male friends seem to be in unhappy marriages.
7:30 p.m. Send Eddie a second text: "I'm curious to hear how your night was." He still hasn't replied to my first text, so he must just be really busy. I hope the sex was mind-blowing, and I really want to hear all the details. And if it went well, that means I'll get to fuck her too! Yay!
Day 5
10:26 a.m.  I send Seth and Eddie a message to see if we are on for tonight. Something tells me it's not going to happen, and I've got pretty good intuition about these sorts of things.
10:30 a.m.  I get a text from Josh asking me if I want to meet up after work for a drink. I tell him that I would really love to but have tentative plans, so if he doesn't mind being on standby, I can let him know in a couple of hours. He's cool with that.
1:41 p.m. Get a message from Seth that he really wants to make it but can't because he's going to need to work late. Still no word from Eddie.
2:08 p.m. Text Josh that we are good for tonight.
6:15 p.m. Meet Josh at a local pub and talk for hours. The conversation is both funny and serious. He's really great, but I'm not sure if I'm all the way attracted to him. He walks me to my car, we have some awkward chitchat, and when we finally say good-bye, he kisses me. It started as a sweet kiss, but then I bit his lower lip, which I regretted right away: way too suggestive, which wasn't my intention. It's been so long since I've had a "normal" kiss, I've forgotten how.
9:50 p.m. I message him to thank him for the evening, and he replies that he was glad my other plans fell through.
9:53 p.m. I message Eddie asking if everything is okay and that I'm concerned, because it's not like him to not respond. I add that if he doesn't want to fool around anymore, that's fine; I just want to be sure he's okay.
10:21 p.m. Eddie sends me a message apologizing for the late response. He says he's fine but preparing for his tour and sex was the last thing on his mind. I ask if he banged his BFF, and he confirms that he did: He says it was fun but that he had no desire to do it again and wanted to leave their relationship the way it was. Based on that answer, I'm going to have to assume that it wasn't fun. I told Eddie that he could pass along my contact info to his BFF if she's still interested in having a threesome — I'm sure Seth would be willing. Eddie doesn't respond.
11:30 p.m. Watch some amateur threesome porn since I don't get to have my own. I like seeing real people get off. I come twice.
DAY SIX
9:00 a.m. The first day of the holiday weekend and start of my vacation. Great, I can masturbate and not have to rush to get out of bed.
1:30 p.m. Meet my best friend at the nail salon — some last-minute prep for our vacation. She tells me about two guys she's corresponding with on eHarmony. She's looking for real love because she wants to have children and time is ticking by. Usually I share everything with her, but I haven't told her that I slept with Eddie last week or that we are still even in contact. After she expressed her concern about my behavior (i.e., meeting a guy on CL with the intent of engaging in a MFM threesome), we agreed that maybe not everything should be shared. It's so hard not to tell her, though, especially because the sex was ridiculous.
3:56 p.m. Text from my 28-year-old British fuck buddy, Andrew. He's a bit of a know-it-all and he has that dry British humor. Plus, nobody eats pussy like Andrew. He's checking in to see what I'm up to this weekend: I'll be away but tell him that we'll have to arrange for a playdate once I'm back. God, I miss that tongue.
8:15 p.m. Spend some time on OKC looking for the unicorn. Apparently everyone else is, too — I guess that's why she's a unicorn. I'm wondering if I can barter with another couple. I'll play the role of your unicorn if you'll be mine …
DAY SEVEN
1:15 a.m. Wake up and can't get back to sleep.
5:35 a.m. Hit snooze and look over at the alarm clock to realize I slept through one alarm. The car is supposed to be here at 5:30 a.m., so I have to hurry. No shower — ugh. Fuckkkkk. 
7:05 a.m. Get through TSA easily and can calm down now. I'm looking forward to be spending the next five days with my girlfriends, sipping cocktails and sharing stories of our most recent exploits. Sadly, I think I'll have to keep my threesomes all to myself.
Want to submit a sex diary? Email sexdiaries@nymag.com and tell us a little about yourself.