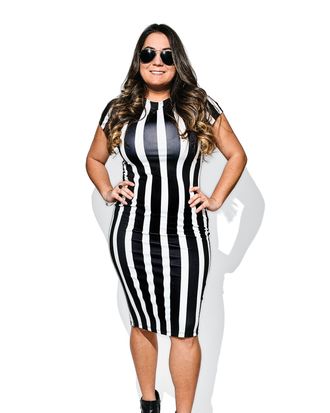 "High school actually was a breeze for me … I got in with the jocks, which helped me."
Photo: Bobby Doherty/New York Magazine
Maria Cevi, HR Director
Nice stripes. 
The funny thing about this dress is that I got it online, through some Asian website, and accidentally had it delivered to my old apartment, where my ex-boyfriend still lives, so I had to pick it up from him. We broke up in November, and I'm writing a book inspired by the breakup — about how you pick yourself back up and get to know yourself all over again after something traumatic happens. My goal is to publish it by the end of the year.
How long have you lived in New York?
Seventeen years. I grew up in Greece, in Athens, and my parents moved us here when I was 14 so my brother and I could have a better life. But my life was pretty great there! I had an English tutor, a French tutor, an Italian tutor, a Spanish tutor. And I had my own horse.
Moving at 14 to the U.S. must have been hard.
High school actually was a breeze for me. I accidentally was put in a junior English class my freshman year, but because my English was so good — I was studying Shakespeare at 12 — I ended up tutoring these two star basketball players in the class who were pretty much failing. I got in with the jocks, which helped me. I went to the prom all four years.
Lightning Round
Age: 30.
Neighborhood: "I pay for my parents' apartment in Windsor Terrace and will stay there on weekends, but I also have my own place in Gramercy."
Favorite TV show: Game of Thrones and Silicon Valley.
Favorite Greek restaurant in New York: Taverna Kyclades. "Get the shrimp Santorini. It's shrimp with peppers and tomatoes and feta."
*This article appears in the June 27, 2016 issue of New York Magazine.