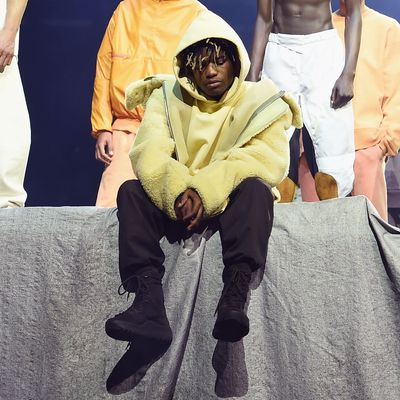 Ian Connor.
Photo: Dimitrios Kambouris/Getty Images for Yeezy Season 3
If you aren't up on the current status of Ian Connor's life (or maybe you're saying, "Who is Ian Connor in the first place?"), then here's a brief primer: Ian Connor first entered the hip-hop/arts community as a collaborator of Wiz Khalifa, did an early stint styling Kylie Jenner, then soon after became associated with A$AP Mob, where he was signed to A$AP Rocky's fashion label as a creative director. He has modeled in Yeezy Seasons 1, 2, and 3, and has long been associated with Kanye West as one of the rapper's many young ingenues-cum-muses. As Vogue wrote in February of this year, his "insouciant and louche cool-kid sense of personal style has left an indelible impression on the fashionable rapper." 
But in April, Ian Connor's seemingly cemented position in A$AP Mob and association with Kanye West began to crumble when he was first accused of rape by two women. At the time, Theophilus London, in a since deleted tweet, asserted that Connor was innocent. But in the months that have passed, as five more women came forward with rape accusations, London as well as other members of the A$AP Mob have come out publicly against him. This all came to a head in Paris on Thursday when a fight broke out at the Colette store in Paris between London, Connor, A$AP Bari, A$AP Rocky, and Virgil Abloh. The two skirmishes were caught on video.
Kanye West, on the other hand, has remained silent on the accusations, though London claims that the rapper wants nothing to do with him anymore. As for Connor, he responded on Twitter with shit-flinging accusations of his own.