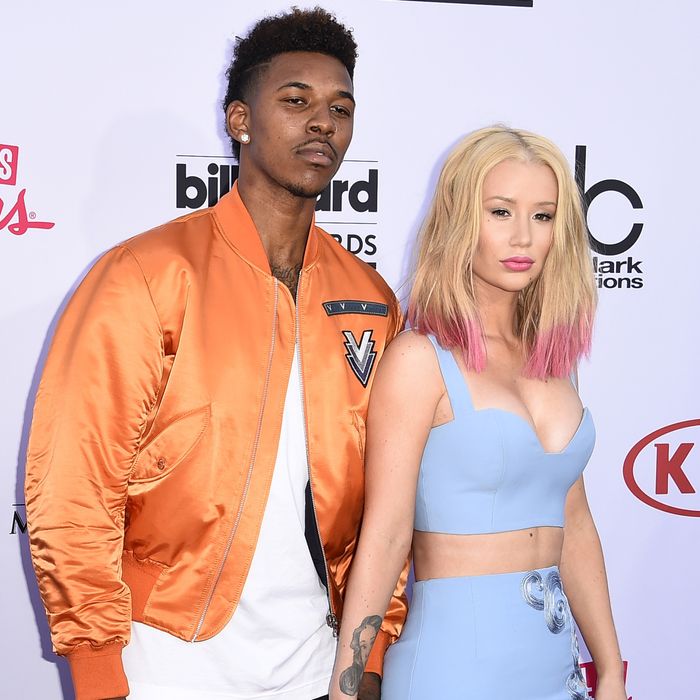 Nick Young and Iggy Azalea.
Photo: ROBYN BECK/Getty Images
Iggy Azalea has had a rough few months with a very public breakup from her ex-fiancé, Nick Young. But it looks like the wounds are not only still fresh, but new ones are forming, making for an even messier and more public breakup.
Understandably, the woman has a lot of things to get off her chest. Azalea, though, isn't only angry at Young.
In a tweet shared Thursday evening, Azalea aired how baffled she is by all of the drama that's been unfolding.
Azalea's angry, yes. The rumors haven't been confirmed, but photos have surfaced of Young with Green back in March, when he was still engaged to Azalea. Young, it should be noted, already has a 3-year-old child with Green.
According to her tweets, Azalea apparently has been piecing the story together as it plays out in the media.
She also tweeted that the real reason she broke up with him earlier in June was because she has caught Young bringing other women into their home. Young was apparently caught on-camera.
This all comes after a video surfaced earlier this year purportedly showing Young talking about women he'd been with while engaged to Azalea. She stood by him throughout the allegations, brushing things off by saying the drama was on the internet.
We fully expect Azalea to keep us posted on further details about the breakup. She's done as much so far.