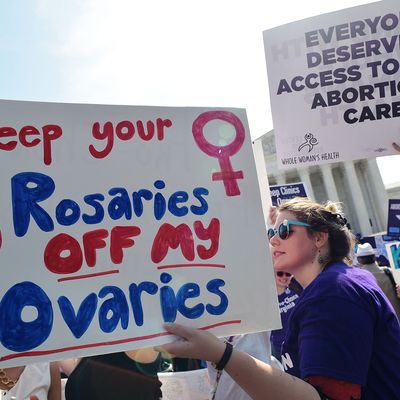 Photo: MANDEL NGAN/Getty Images
On Thursday, a federal judge brought to a halt a broad Indiana law signed in March that would have banned abortions based on a fetus's perceived genetic disabilities or anomalies.
Judge Tanya Walton Pratt, of the Federal District Court for Southern Indiana, granted an injunction against the law, which was set to take effect on Friday. She also halted another law banning abortions based the fetus's sex or race.

Pratt said the state did not have the right to impose restrictions on a woman's reasons for wanting an abortion. In her decision to grant the injunction, Pratt cited the major Supreme Court decision from earlier this week on abortion restrictions in Texas.
"The State's theory is also contrary to the reality that the decision to terminate a pregnancy involves 'intimate views with infinite variations,'" Pratt wrote in her order, according to the Huffington Post. Pratt said the law was unconstitutional and intruded on a woman's right to privacy.
Advocates of the Indiana law had proclaimed it prevented discrimination in abortion. In oral arguments in June, the Indiana solicitor general argued the law was a necessary step resulting from advanced testing on fetuses to determine their gender or whether they have genetic defects.