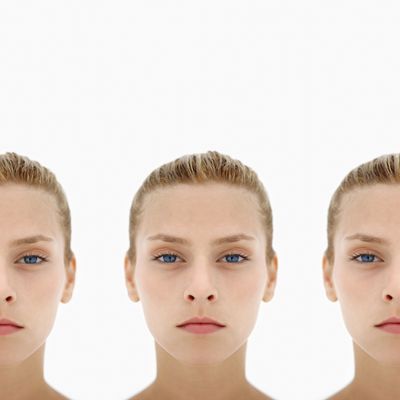 Is Instagram making everyone look too similar?
Photo: Darren Robb/Getty Images
"Social media is the worst thing that's ever happened to the beauty industry," says celebrity makeup artist Pati Dubroff. It's a strange thing to hear from someone who just received over a thousand Likes for a picture of her client Emilia Clarke's makeup. But speaking on the phone from California, Dubroff doesn't falter.
"The other day [makeup artist and YouTuber] Lisa Eldridge posted a video calling social media the best thing to ever happen to beauty. I saw that and went, 'Ugh!!' On the one hand, social media has given a broader, bigger voice to beauty professionals. But sadly, it's also given a big voice to non-professional beauty enthusiasts claiming to be professionals. All they do is their own makeup, and it's extremely filtered and manipulated. There's no lifelike quality to it!" Dubroff says, her voice rising.
Whisper the words "Instagram makeup" in a room full of celebrity makeup artists, and it's like you just shouted, "Orange bronzer." The phrase was popularized when beauty expert Wayne Goss called out the "Instagram eyebrow," a dramatic, faded-out eyebrow that he described as "a really frightening thing." Thousands of commenters chimed in to agree. The Instagram eyebrow has since given way to Instagram contouring, highlighting, eye makeup, and lips. Although "Instagram face" isn't a coined phrase yet, makeup artists recognize the app's aesthetic when they see it, and most of them hate it.
You've most likely seen Instagram faces before. They may appear in your Instagram "popular" feed, showing people with cartoon-smooth skin, perfectly defined flicky eyeliner, cheekbones carved like marble, and strobing so shiny it creates what one makeup artist jokingly described to me as "C3PO cheek." The biggest beauty influencers on the app mostly do Instagram makeup, posting daily selfies, breakdowns of the look, and how-to videos that condense the flurry of baking, highlighting, contouring, and "beat" into a slick minute.
And right now, Instagram makeup is getting all of the Likes. There isn't much overlap between those the beauty industry views as its biggest influencers (celebrity, editorial, and fashion-makeup artists like Yadim, Charlotte Tilbury, Hung Vanngo, Sir John, and Pat McGrath) and the app's most popular users.
Naomi Giannopoulos has never worked with Steven Meisel or for Prada, and she isn't a household name. But her Instagram handle @Vegas_Nay has 7.8 million followers, thanks to her consistent beauty posts. Compare that with McGrath, whose account has 843,000 followers — granted, she only started it last year. A few months ago, McGrath posted a photo of model Stella Maxwell wearing dark, black-rimmed eyeliner from the Versace show, and received almost 7,000 Likes. But a video Giannopoulos posted of a bare-faced model transforming into a full-face of "Instagram makeup" received 635,000 Likes.
Brands are also feeling the positive effect of collaborating with Instagram makeup-centric beauty influencers. One of Becca Cosmetics' most popular collaborations to date was with YouTube and Instagram makeup star Jaclyn Hill. Their first collaboration, a highlighter called Champagne Pop that's glows so much Hill said it could "send signals to space," sold 25,000 units in 20 minutes, reported WWD. Their follow-up, which included a second Champagne Pop palette, sold 20,000 in 90 minutes during a preview.
"There's a feeling of it being ubiquitous, and maybe a bit pedestrian," admits makeup artist Troy Surratt, creator of Surratt Beauty. Robotic, soulless, and identical are a few of the other words that makeup artists have used to describe the look to me. In a way, they're not wrong, at least about it being pervasive.
Instagram's beauty posters tend to look like they're all the same woman, and that woman is Kim Kardashian. Thanks to hundreds of "Get the Look" tutorials, it's never been easier to strobe and contour yourself into a facsimile of the star. So no wonder there's a cloning effect: "If you're using the same makeup palettes and lip colors, when you follow the formula, you look the same," says celebrity makeup artist Nick Barose.
Of course, Kardashian is one of the most famous women in the world, not to mention a beauty ideal. (As Tina Fey wrote in Bossypants, she looks like she was "made by Russian scientists to sabotage our athletes.") Had Instagram existed when Friends was at its peak, it would have been flooded with pictures of "Rachel" hair. But what makes Kim especially perfect for the app isn't just her level of celebrity: It's the fact that she prepares her face with the meticulousness of someone who knows she's going to be photographed by E! Camera crews and paparazzi all day long.
With the ubiquity of phone cameras, Facebook, Instagram, and Snapchat, even non-celebrities can feel the pressure to look camera-ready at all times. A few weeks ago, I attended a beauty event full of Instagram beauty influencers. In person, I thought the full-on Instagram makeup "beat" that many of them wore seemed a little extreme for daily wear. The collective beams coming off their highlighters were Batman-signal-like in glow. But as they crowded into the photo booth and their images flashed across a giant LED screen for everyone to see, they looked flawless. Meanwhile, with my everyday, "natural" makeup, I looked shiny, imperfect, and amateur-like in comparison.
The trick to Instagram makeup is that it's about doing a face for your online life, rather than your everyday life. "In the real world, things like Instagram makeup just won't work. I don't contour too much because it makes people unrecognizable. I don't want to give them new faces. As makeup artists, we have no control over the light or what angles people are going to shoot at. Instagram is a controlled situation, a little square you can manipulate," says Barose.
"I've seen [Instagram makeup] before in real life, and it's really off-putting," says Dubroff. "I've seen it at the grocery store with the girl ringing me up. I was at LACMA the other day and there was this girl in her mid-20s, but she looked like she was 40, with heavy contour that was not well-blended. My daughter who is 13 said, 'Oh my god, look. That looks so ugly.' If you're getting an A-lister ready for an elegant event, you want the skin to look like skin. Not like you have this crazy mask. You would be melting!"
A bit of makeup-artist elitism may be coming into play here. Many of the Instagram beauty influencers on the app, despite being hugely popular, haven't taken the typical path to beauty-industry success. They've never assisted François Nars, worked on Diane Kendal's team, or spent time backstage at Paris Fashion Week. Few have ever worked on an editorial shoot. "Instagram makeup has sort of democratized beauty. Now we're discovering talented people who didn't assist and have built a body of work. It's a new way to get there," explains Surratt.
Instagram beauty influencers are aware of the makeup derision, and even agree. When I asked Teni Panosian, an Instagram beauty influencer with 500,000 followers, if she wore the same makeup as that seen on her app on a daily basis, she was vehement. "Oh no, no no. On my Snapchat, you might see me in, like, 20-percent-level makeup. Instagram makeup doesn't translate to daily life. If I go all out, it's because I'm doing a video. People like [Instagram makeup] because it's eye-catching and entertaining."
Others shrug it off. Karen Sarahi Gonzalez of ILuvSarahii, an account with 880,000 followers says, "Yes, I do Instagram makeup. I look so different without it. It doesn't change a person's insides. Maybe this makeup can give them more confidence. A lot of us have insecurities. If makeup can make you feel better, I'm all about that."
"I just don't want young girls to think this is how they have to present themselves all the time. But I know that being a makeup artist is like being an illusionist," says Dubroff.
Surratt adds, "At some level, it's all artifice, and as RuPaul says, it's all drag. We all wake up and put on our drag for the day. To categorize it as lowbrow or highbrow, it all gets complicated."