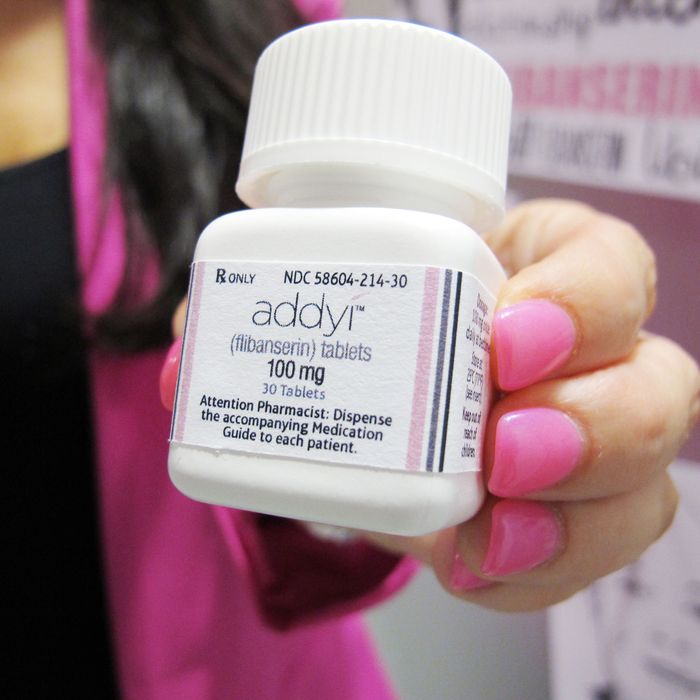 Addyi, the sexual-dysfunction drug that came to be known as the 'female Viagra,' hit the market in October 2015, after being rejected by the Food and Drug Administration twice. But getting an insurance company to pay for it is a whole new hurdle interested users will have to face.
According to CNN, women and their gynecologists have noticed that it's significantly more difficult to get insurance coverage for Addyi than Viagra.
One such patient, Michelle Weber, says her boyfriend's Viagra was paid for instantly, but Blue Shield of California told her she was required to see a psychiatrist before she could even be considered for coverage. She would also have to try a different, cheaper drug first — though that equivalent for Addyi isn't even intended to treat sexual dysfunction and low libido. Blue Shield also claimed that her antidepressant was causing her lack of sexual interest, though Weber said that it was an issue long before she took her current antidepressant. The Addyi would have cost her $1,000 per bottle out-of-pocket.
Dr. Irwin Goldstein, the president of the International Society for the Study of Women's Sexual Health, said this is a commonplace practice when it comes to insurance companies and Addyi — but has never happened when he's attempted to prescribe Viagra. "It's startling. It's so sexist," Goldstein commented. Weber's gynecologist, Dr. Tami Rowen, called it a "huge double standard."
Clinton McGue, a spokesperson for Blue Shield of California, responded to CNN's inquiries, writing that the "committee of external pharmacists and physicians, including psychiatrists, review the medical evidence for prescription medication to determine Blue Shield's coverage policy. The committee determined that Hypoactive sexual desire disorder is best diagnosed after a psychiatric evaluation." But psychiatrists say that they will often refer patients with these issues back to gynecologists or sexual-health experts.

McGue also mentioned the "black box warning" that comes with Addyi, owing to its side effects, but the cheaper medication that women are required to try first (which is not FDA-approved to treat sexual dysfunction) also comes with such a warning.
Gynecologist Dr. Alyse Kelly-Jones told CNN, "I think women in general should be alarmed. Insurance companies are covering things for men that they're not covering for women."
For what it's worth, studies have shown that Addyi hasn't been effective in treating low libido — only 8 to 13 percent of women who tried the drug said it helped their sexual-dysfunction issues. But that doesn't make the double standard of insurance coverage any better.