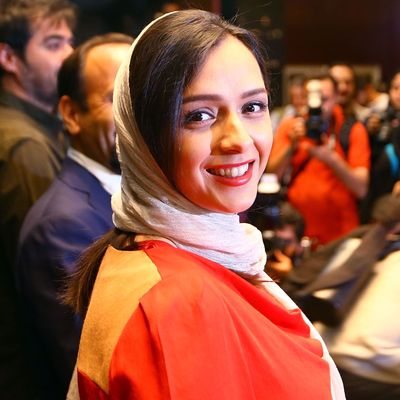 Taraneh Alidoosti.
Photo: Amin Mohammad Jamali/Getty Images
An Iranian actress faced backlash in her native country on Tuesday for displaying what appears to be a feminist tattoo. Known as the Natalie Portman of Iran, 32-year-old Taraneh Alidoosti was at a Tehran press conference for her film The Salesman; the movie recently won two awards at the Cannes Film Festival. Reaching for a microphone, Alidoosti appeared to reveal a tattoo of the "woman power" symbol under her left sleeve — a raised fist combined with the Venus symbol, which is often associated with radical feminism.
In a country with a nonexistent women's-rights movement, the ink sparked an uproar on social media, the New York Times reports, with many questioning whether Alidoosti is actually a feminist. The actress spoke up on Twitter to explain the meaning behind the symbol.
She also posted to Twitter, "Feminism doesn't mean antiman or antifamily. Feminism means that each human aside from his or her gender has the right to an individuality and according to that, to choose the life that she or he wants."
Iran's judiciary has convicted groups for working to change laws that treat women and men unequally. Last month it threatened to publicly shame and name those who fail to uphold Islamic values — a direct warning to famous athletes and actors like Alidoosti.