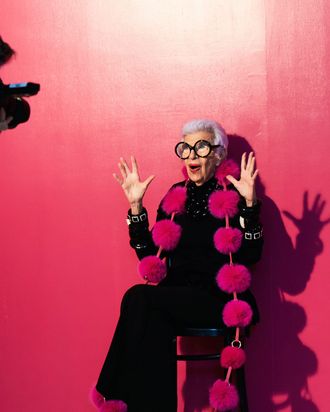 Iris Apfel in the INC campaign.
Photo: Courtesy of INC International Concepts
If a tearful Kim or a shirtless Biebs doesn't quite express what you were going for in your texts, never fear: Soon Iris Apfel will be coming to your keyboard. Macy's brand INC International Concepts is teaming up with the self-described "geriatric starlet" for a 40-piece Mod-themed fashion and accessories collection this fall, to be called Iris Meets INC. To promote the collection, INC will release an emoji keyboard featuring Apfel come September.
Apfel — who has previously collaborated with HSN and wearable-tech brand WiseWear — also stars in the advertising campaign for the collection. In one shot, she's wearing a sweatshirt with her quote "More is more; less is a bore."
"Macy's was my very first department store, and we used to always go there on shopping trips," she said in a release. "I've always thought very kindly of Macy's, and I never planned on any of this. How many 94-year-old cover girls do you know?"