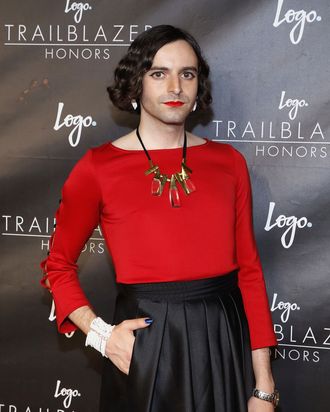 Photo: John Lamparski/WireImage/Getty
While genderqueer activist Jacob Tobia is outraged by North Carolina's transgender bathroom bill, Tobia really thinks the solution is to do away with gender-specific restrooms altogether.
"What's been interesting to me about the conversation around bathrooms is that most of the people who've been visible in the discourse are you know, really, like, burly trans guys and really cute, passing trans women," Tobia told the Cut at Logo's Trailblazer Honors on Thursday. "But I feel like the people who are really impacted by bathroom legislation have not actually been talked about. It's trans elders, it's gender non-conforming people, it's gender non-binary folks, and it's low-income trans folks who can't afford to pass. Like literally, in a financial sense, can't afford to make their bodies look the way that a woman's body is supposed to look, or a man's body is supposed to look."
The MTV True Life alum pointed out that restrooms and locker rooms have always been a place of peril for trans people. "If you've ever been gender different, the bathroom has been a hard place for you. I mean, where do you think young queer kids get bullied most? In locker rooms, in gendered spaces, because you are put into a physical structure that is structured against your best interests. So, it's not like this has not been an issue for a long time, it's that we're uncomfortable, I think, as a movement, talking about the folks who it really impacts. Because the folks who are really impacted by this are not sort of the convenient, easy, palatable people; they're the people who it takes a little bit of time to understand and love if you've never been acquainted with our community before. But those are the folks we've got to start putting forward."
Tobia is neither male nor female, and identifies "outside of traditional notions of gender."
Permitting people to use whichever gendered bathrooms make them feel safest, Tobia says, is a sort of double standard. "I'm here to say when there are gender-segregated bathrooms, I never feel safe. I'm never going to feel safe. What do you do when you walk in with, like, bushy leg hair in a pencil skirt? You go: I need gender-neutral restrooms, and that's the only thing that's going to make me feel safe, and make so many folks like me feel safe."
The Logo Trailblazer Honors will air Saturday, June 25 at 8 p.m. Eastern time on Logo TV and VH1.