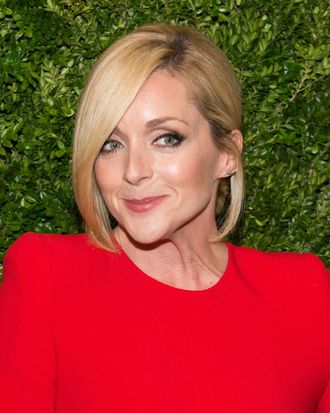 Photo: Noam Galai/Getty Images
As narcissistic TV star Jenna Maroney on 30 Rock and trophy-wife-with-a-conscience Jacqueline Voorhees on Unbreakable Kimmy Schmidt, Jane Krakowski has been responsible for some of the most outsized comedic characters in recent memory. This year, you can also catch her as Ilona in She Loves Me on Broadway, a role that garnered her a Tony nomination — and not just for her impressive ability to do the splits onstage. Krakowski caught up with the Cut in her capacity as the honorary Good Humor Woman to tell us about her morning routine, preparing for Broadway, and how she balances wellness with guilty pleasures.
How I start my mornings: I start my morning with "Mommy!": the joyful, very awake smiles of my 5-year-old son, Bennett. He gets up quite early. We've been waking up around 5:50 in the morning, which isn't completely cohesive with my Broadway schedule at the moment. [But] one of the great joys of this schedule is that I can sort of do my whole mommy-morning with him. We make lunch for school, we do breakfast. Since I've been in the show, although I'm a coffee person, I've been switching to tea in the morning. And usually I  just have a few bites of a Luna Bar or something before, because I'm not really ready to eat a full meal at the start. Or I'll have some raw almonds or a tablespoon of peanut butter or something like that.
How I like to sweat: Since I've been doing the show, I need to be quite flexible. I'm currently doing splits in the show, eight shows a week, so the choreographer and his assistant had turned me onto this place called Moda Yoga, which is my new favorite exercise routine. It's not Bikram, but it's hot. It's I guess 101 degrees versus 106. It's still hot. You sweat everything out, which I've come to love. At first I was like, Oh, I'm not sure if I'm gonna be into this. But now I love it. Your flexibility goes off the charts once you're in there, because of heat you can get into positions you never thought possible. As for doing the splits onstage, it's all with the help of Gavin Creel. Pushing me down and pulling me up.
On SoulCycle: I had my SoulCycle addiction prior to Ellie Kemper's, so we know all the same teachers and we always talk about all the same teachers and what we like about all the different classes at SoulCycle and where we go to follow these teachers. It's really funny. But she's still really into it, too. And I do think she was the inspiration [for Spirit Cycle on Unbreakable Kimmy Schmidt].
To me, wellness is: Being happy in your everyday life. And happy with what you have at this particular time. I think I'm going through a personal time right now where I feel thankful and grateful for the good days that I have in my life and for the goodness that came to my life with the birth of my son, and being happy with the job that I have. I feel so fortunate that I get to work with Tina Fey and Robert Carlock. We're about to enter our 12th season of television together, and I honestly feel so grateful for the day that I met them. I still feel I'm being challenged by them every day with the material that they give me.
I didn't know how much I would enjoy doing the Broadway show. I hadn't done it for 13 years, so I was nervous to do it again, in a good way. But there has been such a joy that came out of doing this show. I realize that I love it as much as I hoped I still would. Physically, it's so different than doing the TV show, and also the roles are so different. It was one of the reasons I really was happy to take on this old-fashioned musical where the characters mean what they say and they are sincere.
How I eat when I'm alone: I feel like I eat pretty clean as my regular routine. I eat a lot of steamed vegetables, steamed chicken. I don't eat that much meat. I'd be maybe, I would say, 90 percent vegetarian. Mostly just because I like the way it makes me feel, not other reasons.
My guilty pleasure: Cheddar Bunnies is one. And I am a big fan of ice cream. Picking my son up at school there's always an ice cream truck on the route, which has been quite dangerous. But we've made it a Friday routine that we always stop for ice cream on the way home from school.
How I end my day: Right now it's finishing the show, greeting any friends that come, which is such a fun part of it. I love all the community feel that comes with being a part of a Broadway show. It's become a really big thing to sign autographs after the show. So a lot of times I'm meeting the fans who came to the show after. And then I head right on home. Bennett's in a new regime of waking up and having what he calls his "midnight snack." He seems to know right when I'm coming home. So right when I come home he wakes up even though I know he shouldn't, and we have our little midnight snack together and then try to get back to bed.
How wellness has changed for me: I think I used to sort of segregate things. Work was this and life was this and exercise was this. And I feel as I get older or I become more relaxed, I feel like wellness is my whole being. It's trying to be happy every day or find something to be appreciative of every day, instead of being only stressed about what you have or what you don't have or what you accomplished or what you didn't accomplish in a day. Maybe this is from having a child, but I get happiness from my son every single day. I feel like that has changed my wellness in many ways.
My biggest wellness struggle: Fitting in the time to do everything you want to do. There are days that I love just devoting to going to the park and playing with my son, but then sometimes you have to leave out other things, or if work is a full day of work perhaps I miss the play time with my son and I guess the only struggle is trying to not shortchange any of the things that you want to do.
How Jenna Maroney and Jacqueline Voorhees approach wellness: Probably for Jacqueline, hers would be an Upper East Side shopping excursion with her other sort of fancy friends, which she no longer is in with anymore, so she probably could really use that. That would make her feel quite good. And for Jenna, god, I can't even imagine what Jenna's wellness is. Jenna's wellness is a mantra to herself in the mirror, like a "Namaste" but "Jenna Maroney." Something like that.
This interview has been edited and condensed.