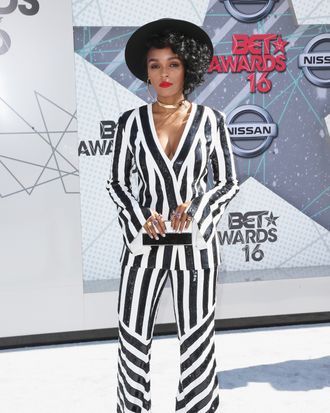 Photo: Frederick M. Brown/Getty Images
Janelle Monáe's outfit and style trademark is a combination of black and white that she manages to repeatedly reinvent in fresh and exciting ways. At the 2016 BET Awards, Monáe stuck to that same color scheme, but with some subtle twists in honor of the one and only Prince.
Monáe walked the red carpet wearing a black-and-white-striped jumpsuit with bell-bottom pant legs and wide sleeves that were reminiscent of the late Prince, who died unexpectedly in April at 57.
Prince left an undeniable imprint on the musical landscape, but his style and sense of fashion was just as recognizable. He was a fan of suits, platform shoes, and bell bottoms. Monáe played on those elements while sticking with her own brand. She paid attention to the details, too. Her manicure color was purple, Prince's favorite.
"I want to do something that felt Prince-inspired as well as Janelle Monáe classic," Monáe said during her red-carpet interview, according to Bustle.
Monáe is slated to perform one of the many tributes to Prince throughout the night.