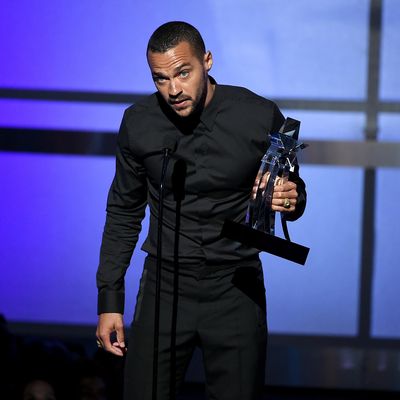 Photo: Kevin Winter/BET/Getty Images
Jesse Williams didn't waste any moment of his acceptance speech at the 2016 BET Awards on Sunday night. He was too busy staying on message.
The Grey's Anatomy actor and activist was recognized for his humanitarian work and involvement in the Black Lives Matter movement. Specifically, Williams was being honored for his involvement in protests in Fergusson, Missouri, and his role as a producer in the BET documentary Stay Woke.
But his acceptance speech was more than a thank-you.
During his speech, Williams delivered each line with the cadence and weight of a sermon. "If you have no interest in equal rights for black people then do not make suggestions to those who do," Williams said. "Sit down."
He continued:
"We've been floating this country on credit for centuries, and we're done watching and waiting while this invention called 'whiteness' uses and abuses us, burying black people out of sight and out of mind while extracting our culture, our dollars, our entertainment, like oil, black gold. Ghettoizing and demeaning our creations then stealing them, gentrifying our genius and then trying us on like costumes before discarding our bodies like rinds of strange fruit."