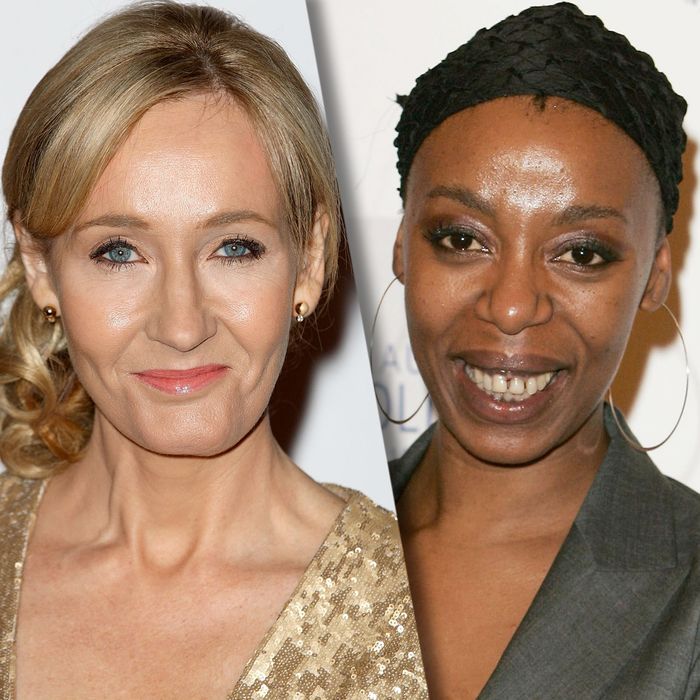 Harry Potter and the Cursed Child — an upcoming two-part West End play set 19 years after the Harry Potter books end — will be going into previews at London's Palace Theatre on June 7. Primarily following Harry's youngest son Albus as he grapples with his family's legacy (while Harry is stuck grudgingly working at the Ministry of Magic), the original stage production generated headlines last year by casting Olivier-award winning actress Noma Dumezweni, a black woman, as Hermione. Potter's author, J.K. Rowling, has already expressed delight over the casting decision (tweeting: "Canon: brown eyes, frizzy hair and very clever. White skin was never specified. Rowling loves black Hermione"), but she has now expounded on her opinions beyond the constraints of social media.
"I had a bunch of racists telling me that because Hermione 'turned white' — that is, lost color from her face after a shock — that she must be a white woman, which I have a great deal of difficulty with," she told The Observer. "But I decided not to get too agitated about it and simply state quite firmly that Hermione can be a black woman with my absolute blessing and enthusiasm." Online commenters, she noted, left her feeling particularly frustrated. "With my experience of social media, I thought that idiots were going to idiot," she continued. "But what can you say? That's the way the world is. Noma was chosen because she was the best actress for the job."
John Tiffany, Child's director who cast Dumezweni in the role, also expressed surprise over the ruthless online reactions following the casting announcement. "I am not as Twitter-familiar as Jo and Jack [Thorne, Child's writer], so I hadn't encountered its dark side, which is just awful," he said in the same interview. "But what shocked me was the way people couldn't visualize a nonwhite person as the hero of a story. It's therefore brilliant that this has happened." The play's world premiere, following a few weeks of previews, is set for July 30.