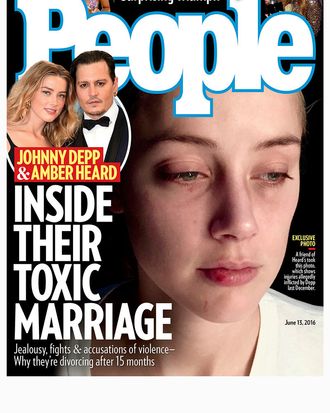 Johnny Depp has been accused of domestic violence by his estranged wife of 15 months, Amber Heard. The story is only a few days old, and it's already unlike anything we've ever seen in the gossip press — as Lainey Gossip points out, typically these kinds of allegations don't touch the A-list. Though Depp's publicity and legal teams have worked to discredit Heard over the last week, not every tabloid has subscribed to his narrative. This is new.
Heard filed for divorce from Depp on Monday, May 23, 15 months after she married him and three days after his mother died. After news of the divorce broke Wednesday the 25th, TMZ reported within hours that Depp's family had "hated" Heard all along and that his mother thought she was a user who wanted Depp's money and fame. Tabloids published photos of Heard shopping at Tiffany "the day after" filing for divorce, even though it turns out the pics were taken in April. Depp's lawyer — the famous celebrity divorce broker Laura Wasser — asked the judge in the proceedings to deny Heard's request for spousal support, and his rep released an icy statement about the whole affair.
But then, on Friday the 27th, Heard, with a visible bruise below her eye, went back to the judge and accused her estranged husband of domestic assault. It happened on Saturday, May 21, she said, which is why she filed for divorce so quickly. It happened more than once, she added — in December there was an incident that made her fear for her life. She noted that she had ample documentation of the alleged abuse, including both pictures and video.
Depp has yet to address the allegations himself, but Wasser called them an attempt to "secure a premature financial resolution." Friends and family of Depp have spoken up on his behalf, too, casting doubt on Heard's claims. Comedian Doug Stanhope suggested that Heard was blackmailing Depp. Depp's 17-year-old daughter, Lily Rose, posted on Instagram that he is "the sweetest most loving person I know." Could Johnny Depp, a genuine movie star at the top of the A-list, really do this?
Yesterday, the respected celebrity source gave its answer: Yes. People put a photo of Heard, bruised and with a cut lip, on this week's cover. The photo was taken in December, Heard says, after the incident in which Depp made her fear for her life.
This is pretty incredible considering People's long-held tendency to protect the A-list. Last year, for example, the magazine strenuously avoided reporting on any of the Ben Affleck and Jen Garner divorce rumors until the couple was ready to make an official statement. Because of this deference, Affleck and Garner gave People the coveted exclusive announcement. By putting Heard's bruised face front and center this week, People forfeited any and all future access it might have to Depp — who, if things still go according to plan, will helm a franchise film extremely popular with People's minivan majority audience next year.
The divorce proceedings are just getting started, and it's not at all clear what will come of the allegations against Depp. How the tabloids cover the story, however, could influence some domestic-violence victims' decisions to come forward with their claims in the future. People's call to put Heard's evidence on its cover signifies a small shift, it seems, toward giving women the benefit of the doubt — or at least not jumping directly to discrediting them.