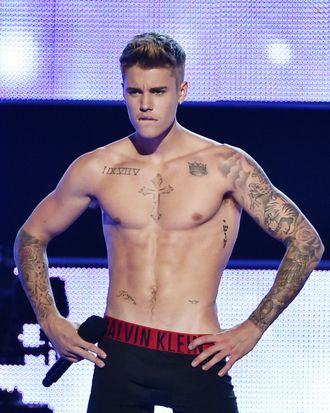 Justin Bieber.
Photo: Theo Wargo/Getty Images
"It seems like I have a lot of stuff," Justin Bieber once said of having 56 tattoos. In the same GQ interview he called the whole process "mad uncomfortable." The Canadian has amassed more ink than there are U.S. states in his 22 years of life, sharing countless near-naked snaps of those tattoos via poetic scenes he likes to stage in one of three ways: while shirtless, near a shower curtain, or in only a towel and/or Calvin Klein underwear.
Last month Bieber unveiled a new face tattoo, inspiring a flurry of headlines and mandating (for me, at least) a perusal of the fan boards dedicated to locating and decoding his prolific ink. They're a mix of sentimental, spiritual, and regrettable incidents: He got his first at 16 (a rite of passage in the Bieber family), has various religious tattoos like his dad's, and still covers up at least one image of Selena Gomez as a winged angel. Herewith, a taxonomy.
The Tiny Cross
Where: Below his left eye
Why: With tattoos virtually everywhere else, why not his face? The tattoo artist JonBoy explained it represents the star's "journey with finding purpose in God."
David Beckham Wings
Where: Neck
Why: A statement shirt-collar accessory, the two wings are nearly identical to David Beckham's controversial angel neck wings from 2004. (The collective fan board gasp: People called Beckham a "hooligan"!)
"PATIENCE"
Where: Neck
Why: The Gothic letters were rumored to reference his on-again-off-again romance with Selena Gomez.
Anchor
Where: Below right ear
Why: The seldom-discussed nautical tat was apparently seen last April.
Treble Clef
Where: Below left ear
Why: Music, man.
Stratford Cullitons
Where: Left shoulder blade
Why: For Canada, for ice hockey, and for his grandpa, who took him to the Canadian junior team's games every Friday night. "This is for u Grampa," he captioned on Instagram.
Psalm 119:105
Where: Right shoulder blade
Why: "Your word is a lamp for my feet, a light on my path."
Another (Bigger) Cross
Where: Chest
Why: Look up. Higher. This massive cross was accidentally revealed in 2014 while the Biebs faced a flurry of criminal charges — his dad shared a cute snap of Justin asleep next to his half-brother. I give you this picture instead.
1975 Roman Numerals
Where: Left collarbone (this is a reverse mirror shot)
Why: Sweetly, it's the year his mom, Pattie Mallette, was born. You may share her sentiments about her son's ink: "I wish he didn't have tattoos but I do like them. I'm torn. Weird, right?" Not at all.
The Crown
Where: Right collarbone
Why: Some fans think this is a tribute to king of pop Michael Jackson, one of Bieber's idols.
"PURPOSE"
Where: Belly button
Why: He unveiled this tattoo before releasing the name of his fourth album: Purpose.
Seagull
Where: Left hip (another reverse mirror shot)
Why: His first-ever tattoo, inked for his sweet 16 in Toronto. It's a family rite of passage among several Bieber men to ink the bird from Richard Bach's novella Jonathan Livingston Seagull — a fable about "a seagull who wanted to be more than just a seagull" (Bieber's words). His dad called Toronto's Son of a Gun Tattoo and Barbershop before they arrived, asking the staff to keep it a secret.
"FORGIVE"
Where: Right hip
Why: Another religious reference?
Yeshua
Where: Left side
Why: He and his dad have the same Hebrew lettering for "Jesus," but Biebs got his during an Israel tour. Although he's a devoted Christian, his manager Scooter Braun is Jewish; friends have said Bieber likes to recite Hebrew prayers before performing onstage.
Mom's Eye
Where: Inner left elbow
Why: "At least he knows I'm always watching him!" she told Ryan Seacrest. I hope so!
Hangry Tiger Head
Where: Left arm, below Jay Z's face
Why: Fans say he has a wild side!!!
More Angel Wings, a Rose
Where: Left arm
Why: Unrelated additions to an animal-inspired left-arm sleeve.
The Eagle
Where: Left shoulder
Why: More wings!
"BELIEVE"
Where: Left forearm
Why: Inked before the arm-sleeve onslaught, this tattoo was inked for his third album of the same name. "Honestly, how does that help how you look to have a tattoo?" David Letterman said disapprovingly of this tattoo in 2012, invoking a Michelangelo reference the Biebs did not comprehend: "Do me a favor: don't go nuts, you know what I mean? Because more and more, you see the 'mural' and like the Sistine Chapel … it's too much." "I'm not going for the 16th-chapel look," Bieber said.
Star
Where: Left elbow
Why: He's a popSTAR, okay?
Cursive "LL"
Where: Upper left arm
Why: "This one is really cool. It stands from when my head's low to lift it up. Just to never keep your head low and just to always look for the better days." Ah, yes.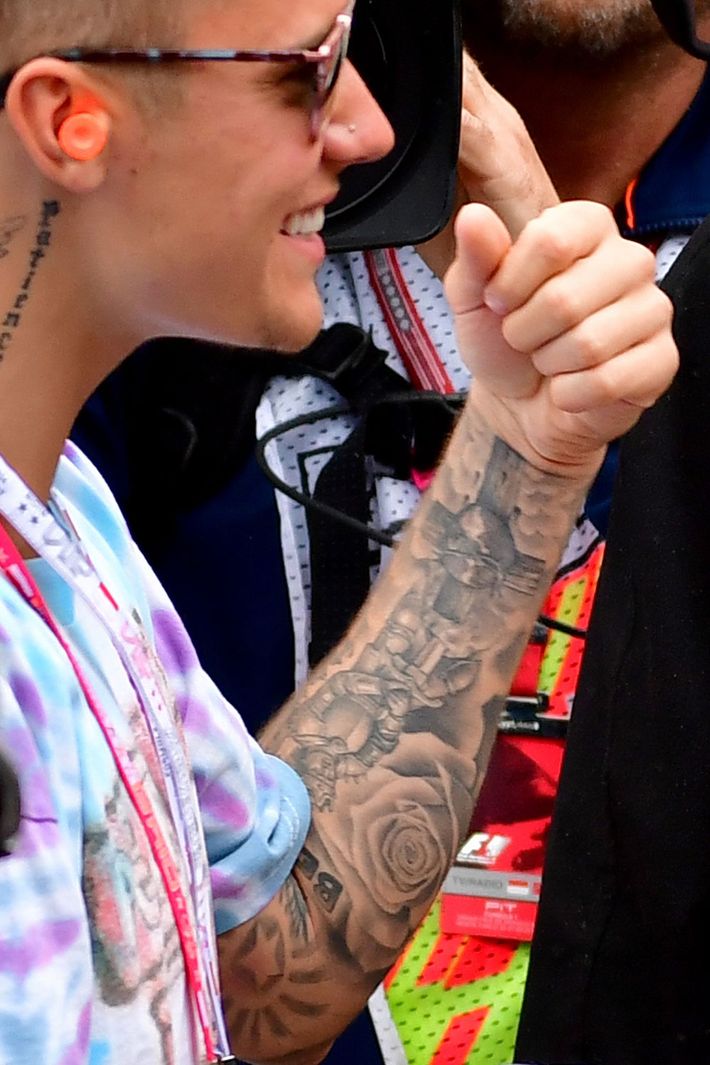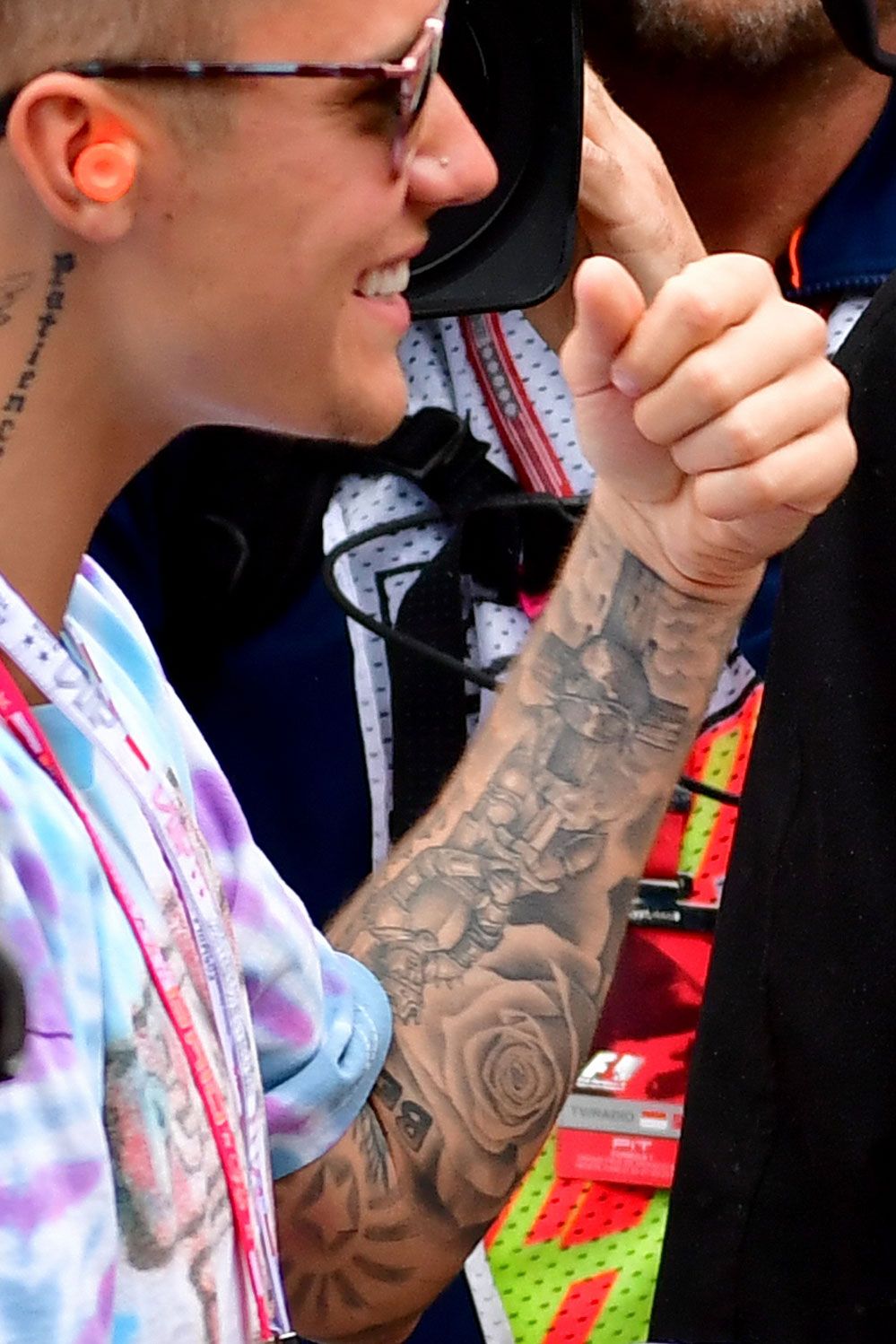 The Castle and the Distraught, Sword-Wielding Knight
Where: Left forearm
Why: Could this knight be King Arthur pulling Excalibur from that rock? Or chivalrous Justin Bieber incarnate? Up to you.
The Bleeding, Crucified Globe
Where: Left forearm
Why: Eight-year-old Justin apparently drew this in class one day.
Selena Gomez, Literal Angel (As Pictured in Elle Magazine)
Where: Left wrist
Why: Regrettably, "This is my ex-girlfriend, I kinda tried to cover her face up with some shading, but people still know." Yes, we know.
The Owl
Where: Left forearm
Why: He notes that this is "an owl, it signifies wisdom." The same owl showed up in the special effects on his Believe tour.
Another Rose
Where: Left elbow
Why: Presumably another sleeve fill-in.
X
Where: Left forearm
Why: For the "unknown," he explained mysteriously. Also: It's a Greek symbol for Christ.
Koi Fish
Where: Right forearm
Why: In Asian cultures, this fish is good luck.
The "Banksy"
Where: Back of left forearm
Why: A tribute to graffiti artist Banksy's famous Balloon Girl.
The Compass
Where: Right bicep
Why: For someone who needs direction. That's all I'd like to say.
Fish Scales
Where: Right sleeve
Why: He's a Pisces!
"BIEBER" in Korean
Where: Right sleeve
Why: "I love Korea," he captioned on Instagram. Otherwise: no explanation.
The Smiling Korean Mask
Where: Right forearm
Why: Again, he loves Korea.
The Jester
Where: Right sleeve
Why: Fans think this was a jab at the press following a police investigation; neighbors claimed he hurled eggs at their house.
The Boombox
Where: Right sleeve
Why: I mean … music.
"TRUST"
Where: Right sleeve
Why: The same name of a song on the album Purpose: "If I believe in love / And you believe in love / Then we can be in love somehow." Trust.
"LOVE"
Where: Right forearm
Why: Probably another one for Selena Gomez, fans speculate.
"MUSIC" in Kanji
Where: Right forearm
Why: An on-brand Japanese character for music.
Two Hashtags
Where: Right forearm
Why: Presumably a nod to his 69 million Instagram followers.
The Letter G
Where: Right forearm
Why: For a little girl named Georgia with the rare brain disorder Lissencephaly, the daughter of Seattle megachurch pastor Chad Veach and his wife, Julia. Selena Gomez, Hailey Baldwin, and Ashley Benson have all inked the same G tattoo for Georgia.
Diamond
Where: Right wrist
Why: The same jewel appears in the artwork for his "Confident" song collab with Chance the Rapper.
The Ghost
Where: Right elbow
Why: It's the same one from Super Mario Brothers.
Magic 8 Ball
Where: Right forearm
Why: Maybe for good luck?
Mysterious Arm Tats
So many of them: Black spades, hand peace sign, cartoon fish, red star-heart, leaf
Where: All over his arms
Why: It's very unclear.
Valentine's Day Cherub
Where: Right forearm
Why: Fans says this is for Selena or a depiction of himself as the angel of love. Given his history, I'm guessing it's the latter.
Graffiti Star
Where: Right wrist
Why: Apparently another nod to Banksy.
Prayer Hands
Where: Left calf
Why: Better than your favorite emoji.
Rose Bouquet
Where: Right ankle
Why: Why not make it a leg sleeve?
Actual Jesus
Where: Left calf
Why: For God. Can you see the halo and crown of thorns?
Fin.