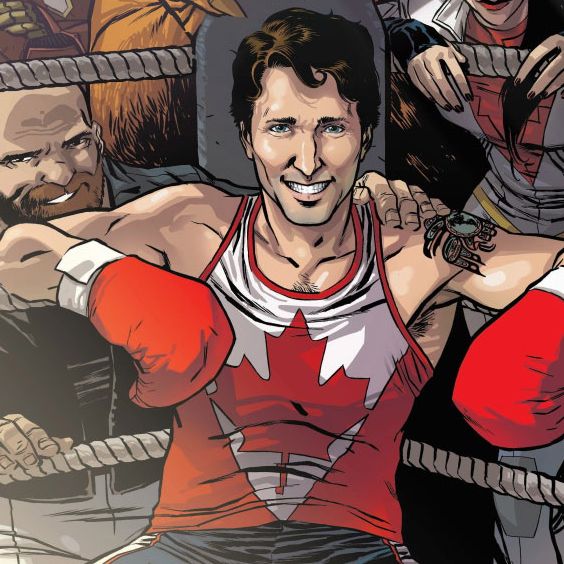 If you've been lovingly drawing pictures of Canadian prime minister Justin Trudeau in a revealing maple-leaf boxing outfit, throw away your paper and crayons because a professional just did all the hard work for you.
CBC reports that a variant cover of issue five of Marvel's Civil War II: Choosing Sides designed by artist Ramón Pérez will feature Trudeau hanging out in a boxing ring in said revealing maple-leaf boxing outfit. He's surrounded by Puck, Sasquatch, and Aurora, members of the Alpha Flight, a Canadian team of superheroes; non-Canadian Iron Man is also present.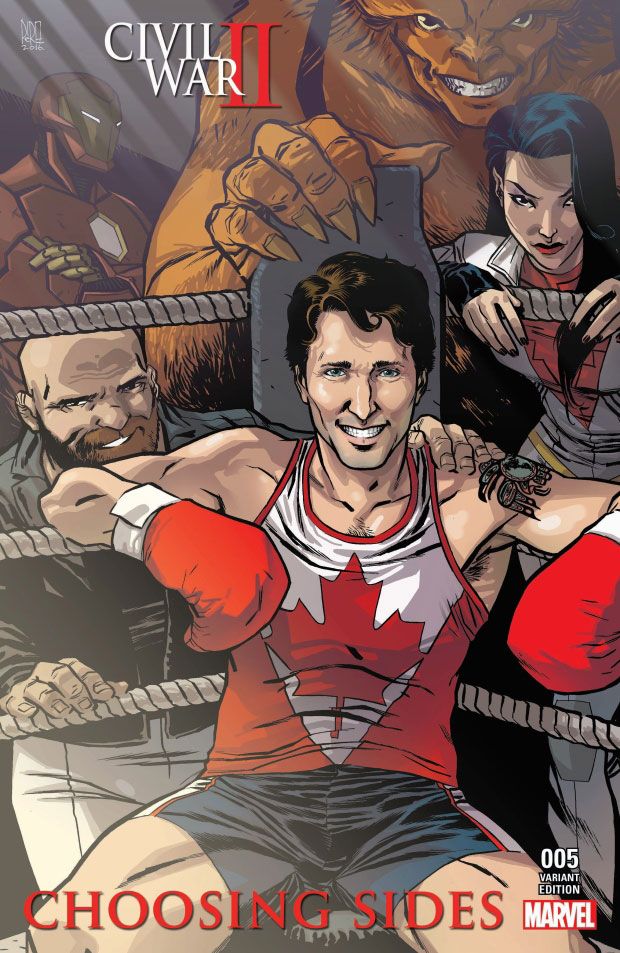 This actually isn't the first time a member of the Trudeau family has been written into a comic. Justin's father, Pierre, who served as Canadian prime minister from 1968 to 1979 and 1980 to 1984, appeared in an issue of Uncanny X-Men in 1979.
Writer Chip Zdarsky, who was tasked with writing the Alpha Flight story, tells CBC, "I kind of figured to do a story about Canada right now and not take that opportunity to put Trudeau in seemed like a waste. He seems to be the popular culture association with Canada right now, right behind (Toronto rapper) Drake — and I probably couldn't get Drake in the comic."
Pérez, for his part, is not tracing any photos of Trudeau for the comic, choosing instead to draw him based on various available images. "I actually look like I have a bit of an altar to Justin Trudeau on my computer," he admitted. (Same.) 
The comic book will be out August 31. Until then, there's always the "Justin Trudeau boxing" Google search.