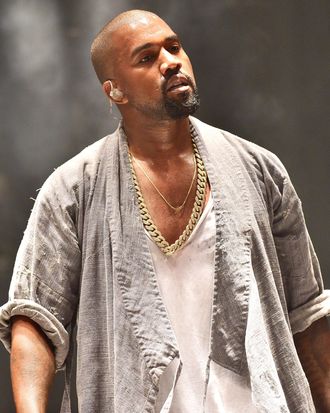 Kanye and a V-neck, in happier days.
Photo: Prince Williams/Getty Images
Disturbing news in the streetwear world today: The V-neck has been declared a casualty of the Hypebeast Wars, and Kanye West is the prime suspect. Speaking on L.A.'s Real 92.3 today, per Complex, the rapper said, "Nothing against people who wear V-necks, but I don't like V-necks." A measured opinion, to be sure, but that hasn't stopped his fans from conducting a V-neck auto-da-fé, with mounds of blameless cotton and wool consigned to the flames. Tweets like "Hypebeasts setting their v-necks on fire right now," and "*adds lighter fluid to pile of V-necks*" are lighting up our timelines.
Other newsy things from this interview: Kanye claimed that Kim dresses him, not the other way around, and said, "When I left Nike for Adidas I did it for my daughter …" (Yes, he's still banging that drum.) But as the sands pour through the hourglass of the V-neck's waning moments in fashion, let's look back on the rapper's (oh-so-brief) affair with the style.