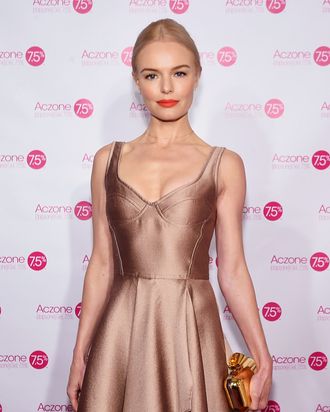 Kate Bosworth.
Photo: Jamie McCarthy/Getty Images
So it goes every morning of my young and vibrant life: Today I woke up to discover that an actress told a women's magazine about her diet. The actress is former semi-pro surfer Kate Bosworth; the magazine is Self; and the diet is condiment.
Bosworth explained to Self, at a party for a new topical acne treatment yesterday, that she puts ketchup on everything. "Ketchup is the indulgence that I never give up," she said. "Ketchup on everything." The rest of her diet is wheat-free, sugar-free, and dairy-free, except "when she goes to Montana to spend time with her husband, Michael Polish … she's drinking whiskey, chowing down on burgers, and cooking ragu."
And eating ketchup, I assume.