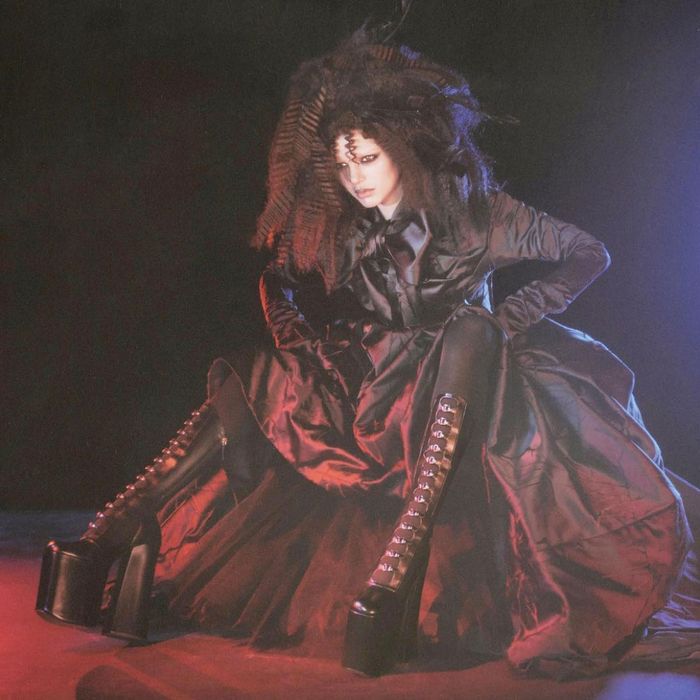 Kendall Jenner in the Marc Jacobs fall 2016 campaign.
Photo: Courtesy of Instagram/themarcjacobs
First, he cast Missy Elliott and Sissy Spacek, a power duo if we ever saw one, in his fall 2016 ads. Since then, he's added Courtney Love and Marilyn Manson, among others, to the stable. Now, Marc Jacobs is taking a more familiar-to-fashion face — Kendall Jenner — and rendering her pretty much unrecognizable. Jenner was shot by David Sims as a "Goth Goddess," wearing an outfit and hairdo that's equal parts Helena Bonham Carter and Bernadette Peters in Into the Woods. Of course, it wouldn't be a Marc ad without the collection's towering boots making an appearance. As he's been doing with his campaign stars, Jacobs shared the image's origin story in a lengthy Instagram post.
I will always remember the first time I met Kendall during castings for our Fall 2014 fashion show. Katie Grand invited her to come by the studio for a brief introduction before she was photographed for the model boards. At the time, I knew very little about Kendall…

As history now has it, her very first fashion show was for Marc Jacobs Fall 2014. Kendall has since been a part of every show along with being featured in our Spring '15 ad campaign (also shot by David Sims). It goes without saying that Kendall has gone on to establish an incredible career for herself and every bit of it is a testament to her hard work, passion and desire.

During castings for Fall '16, due to the enormous height of the boots we designed, we had to make certain that each girl was able to walk (and walk safely). Kendall slid those boots on and walked around the studio as if she was in a pair of running shoes: statuesque, confident and just as enthusiastic and excited to be doing the show as if it was her first one.

 For me, it is the ability of a model to effortlessly transform into a look and character that makes her so appealing and inspiring.

Photographed by David Sims for our Fall '16 ad as a Goth Goddess is the sweet, kind and ultimate professional, Kendall Jenner."