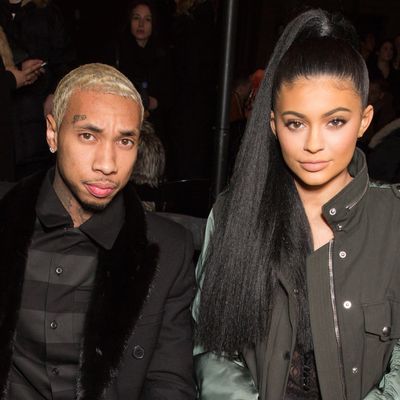 Tyga and Kylie.
Photo: Benjamin Lozovsky.com/BFA
Teen lip-gloss tycoon Kylie Jenner and her on-again, off-again rapper boyfriend Tyga are apparently back on. TMZ has an exclusive photo gallery of the couple making out at a Bentley dealership, which is fitting, as prohibitively expensive cars have been a major motif in their relationship. (Last September, Tyga gifted Kylie a Ferrari that she reportedly paid for herself; Tyga's Bentley was repossessed in February.)
According to TMZ, Kylie and Tyga left the dealership without buying anything.
What happened to PartyNextDoor? you might be thinking, if you know who that is and keep track of who Kylie Jenner is dating. Kylie just appeared in the singer-rapper's music video last week, and Us Weekly reported at the time that the two were officially dating. But when the news broke earlier this week that Kylie was back with Tyga, PartyNextDoor Instagrammed this photo:
As it stands now: PartyNextDoor is OUT, Tyga is IN, and Kylie's dogs are trying to ESCAPE.