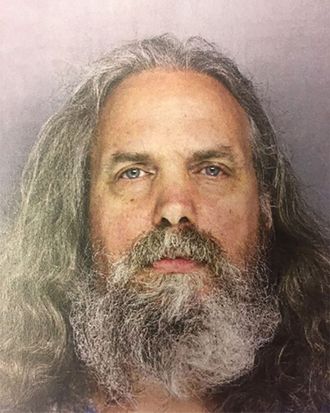 Lee Kaplan.
Photo: Lower Southampton Police Department
A Pennsylvania man was arrested for sexually assaulting a teen "gifted" to him by her ex-Amish parents. On Thursday, 51-year-old Lee Kaplan was discovered living with the girl, two daughters he fathered, and the girl's nine sisters in a small town north of Philadelphia.
Known by neighbors as a recluse, Kaplan lived with the 12 girls, aged six months to 18 years old, in a small, white bungalow surrounded by high fencing and tall weeds in Feasterville. The girls appeared outside only rarely, briefly coming out to play and tend to chickens or a vegetable garden in the backyard. Barefoot, they wore long blue or green Old Order Amish dresses; one neighbor spotted Kaplan walking hand in hand with the oldest girl. Occasionally, he'd take a few of them to Lenny's Hot Dog restaurant or a nearby dollar store.
Police arrived at Kaplan's house on Thursday after a neighbor called child services — frightened, the girls scattered. In the basement, police found air mattresses, a catfish tank, an expensive model-train set, and a greenhouse growing avocado trees. They also found violins and other instruments — Kaplan appeared to have homeschooled the girls with music lessons. Cadaver dogs sniffed the property for buried babies' bodies on Saturday but found nothing.
Kaplan allegedly saved the girls' parents, Daniel and Savilla Stoltzfus, from financial ruin after the family left the Amish church to become Christians; he had partnered in their metalworking business. Four years ago, the Stoltzfus parents gave their then-14-year-old daughter to Kaplan as a gift in thanks, after the father confirmed it was legal "on the Internet," according to police affidavits. But the internet and her parents' assumptions were wrong: Pennsylvania's age of consent is 16, and children ages 13 to 15 can consent to sex only with partners no more than four years older than them.
Kaplan impregnated the daughter that same year. Now 18, she had his second daughter six months ago and apparently lived with Kaplan and her nine sisters — though police have yet to verify birth certificates, the Stoltzfus parents claim they are parents to ten of the girls, and grandparents to two.
Neighbors apparently contacted police and child-welfare authorities several times over the past months; one called as early as 2013, suspicious of Kaplan after Ariel Castro's kidnapping case in Cleveland. But police said the concerns were vague, not specifically "child-abuse calls," and didn't justify search warrants until authorities learned Kaplan had impregnated one of the girls twice. The county district attorney said his office was never contacted, and that he didn't know why police hadn't reacted more quickly to neighbors' concerns.
While county social-services workers care for the 12 girls, Kaplan and the Stoltzfus parents have each been arrested and ordered held on $1 million bail. Kaplan is charged with statutory sexual assault, corruption of minors, aggravated indecent assault, and indecent assault and unlawful contact with a minor. The parents are charged with endangering the welfare of their children, with the father also facing criminal conspiracy and statutory sexual-assault charges.