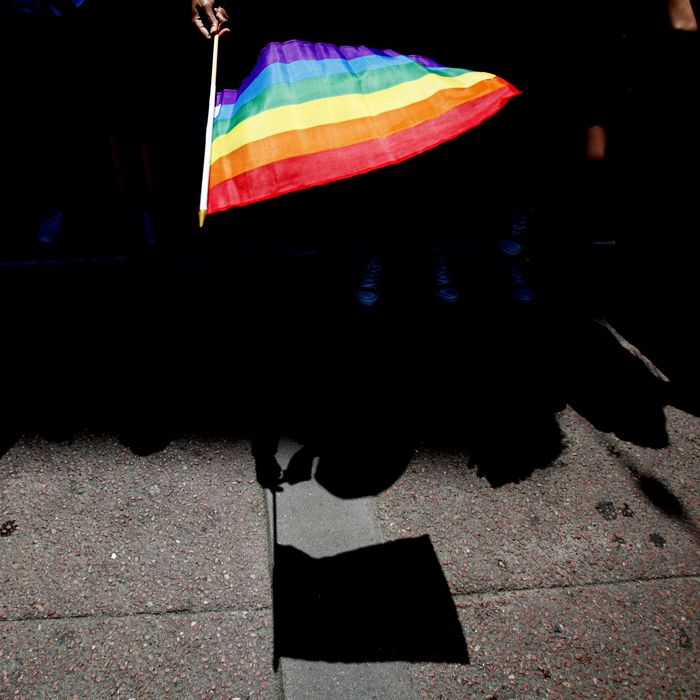 Photo: Sarah Rice/Getty Images
LGBT people were already the most likely group of Americans to be targeted for hate crimes, according to a new analysis by the New York Times. This was the case well before the massacre in a gay Orlando nightclub this week.
The analysis breaks down grim statistics from a number of recent reports: In 2014, LGBT people were the target of hate crimes more than anyone else — twice as often as African-Americans, and surpassing Jewish-Americans. Of 5,462 single-bias hate crimes in that same year, nearly one-fifth were based on sexual orientation or perceived orientation.
A record number of transgender people were killed in 2015 — that same Human Rights Watch report said transgender women of color are facing an "epidemic of violence." In another four-year study of LGBT killings, more transgender black women were killed than any other LGBT group.
But all of these numbers are incomplete, due to the underreported nature of hate crimes: Most aren't reported at all, and hate crimes that are reported often aren't classified as "hate crimes" by local jurisdictions. Cities that are more accepting of the LGBT community will report more hate crimes — as an example, the analysis notes that in 2014 Mississippi reported one hate crime for the entire state, while Connecticut reported 23 hate crimes based on sexual orientation.
Experts note that because more Americans have become more accepting, some individuals opposed to LGBT people have become more extremist. And while the majority of Americans and President Obama have called the Orlando attack a hate crime and an act of terrorism, some politicians are still divided on how to define the tragedy: Some Republicans have refused to call it a hate crime. Senate Majority Leader Mitch McConnell hasn't mentioned gay people at all while discussing the shooting. Texas representative Pete Sessions said the shooting didn't happen at a gay club. Maybe it's time to face some facts?