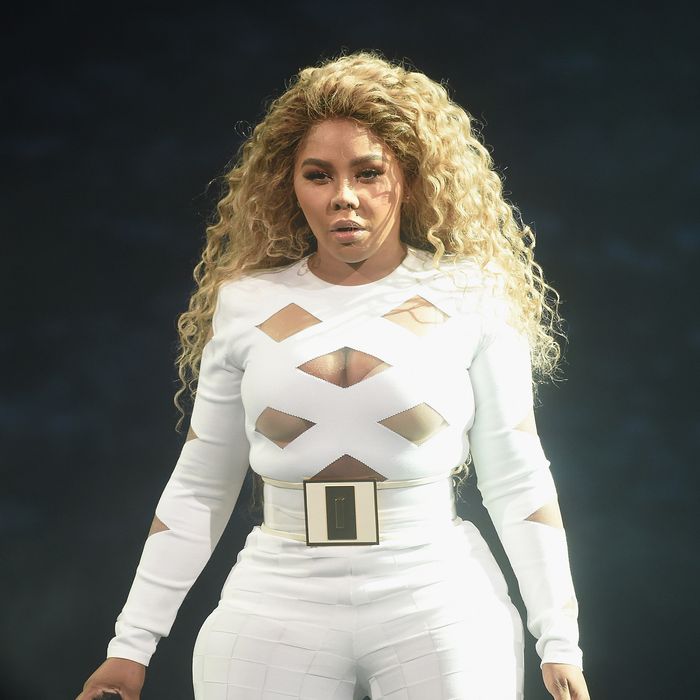 Photo: Jamie McCarthy/Getty Images
It's pretty well documented that Lil' Kim has plenty of love for all things Brooklyn.
After all, the woman comes from the New York borough, and she began her career alongside the Brooklyn-bred Biggie Smalls. So she's always repping her home city and supporting younger artists from the same neighborhood.
Which means, of course, people are speculating if the two are dating.
On Sunday, during the 2016 BET Awards, Lil' Kim shared three photos of Desiigner and herself from the same day. She captions the first photo, "I'm so proud of you baby!!!" (Desiigner, for the record, is 19.)
It's the third and final photo that's the most suspect. Kim stares intensely at the camera while Desiigner gives her a kiss on her head.
Yes! This must be proof that the two are, indeed, dating!
Or this is just another instance of Lil' Kim supporting up-and-coming artists from Brooklyn. In an interview with Rolling Stone earlier this year, she said she's always supportive of the "new guys that come out of Brooklyn."
"I always show love, because I know how the struggle is," Lil' Kim told the magazine, according to ourbksocial.com.
She added that she's done work on records from the younger generation, including Desiigner's. "I'm always connected with the new guys – I just be so proud of them coming from my hometown," she said.
The two also performed together during P. Diddy's Bad Boy Reunion tour earlier this year in memory of Biggie, and Lil' Kim remixed Desiigner's "Panda" on her mixtape.
So even though not everyone is as hyped about Desiigner (like Fabolous, whose response to Desiigner's performance at the BET Awards was lukewarm at best), it's no surprise Lil' Kim has the Brooklynite's back.