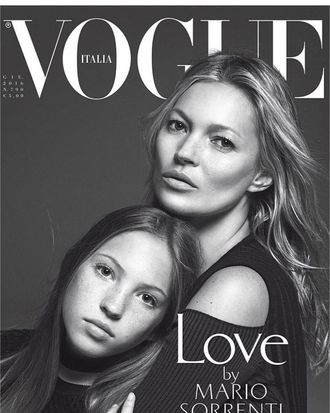 Lila Grace and Kate Moss on the cover of Vogue Italia.
Photo: Courtesy of Instagram/vogueitalia
Talk about a good way to kick off your modeling career. Lila Grace Moss, the 13-year-old daughter of Kate Moss and Jefferson Hack, is on the cover of the new issue of Italian Vogue alongside Mom, and sporting a '70s-style center part and cute freckles. In the black-and-white shoot, by Mario Sorrenti, the two wear fresh-off-the-runway Versace. Moss Junior's most public act thus far has been either complaining about her mom's style or honing her Miranda Priestly impersonation, so this is a big step indeed.
Now, she joins Cindy Crawford's daughter Kaia Gerber and Stephanie Seymour's sons, the notorious Brant Brothers, as supermodel-spawn-to-watch. Who's next, Chrissy Teigen's newborn?