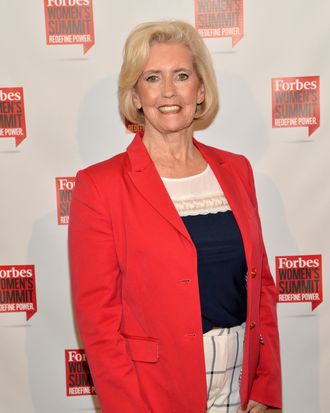 Lilly Ledbetter
Photo: Slaven Vlasic/Getty Images
The first bill President Obama signed into law after his inauguration was the Lilly Ledbetter Fair Pay Act, named for Alabama woman Lilly Ledbetter. Ledbetter made a name for herself in a decadelong fight with Goodyear Tire & Rubber Company after learning they were paying her significantly less than her male colleagues. Ledbetter's case went to the Supreme Court, where her claim was denied because she did not file the suit within 180 days from her first paycheck — though she had no idea of the wrongdoing at the time. The act Obama signed into law makes it so that the statute of limitations refreshes with each new paycheck, so achieving fair pay has no expiration date. Thanks, Lilly.
At the United State of Women conference in D.C. on Tuesday, the Cut chatted with the woman Obama has called a "a good friend of mine" about having her name attached the pay-equality movement, what women need to do now, and why people still believe the pay gap is a myth.
So, does she feel the pressure of having her name attached to in such a de rigeur cause? "I told the president when he signed the bill," she said, "he put an awesome responsibility on me." That responsibility means a lot of different things, especially defending the concept of the gender pay-gap to its many conservative deniers. "I get so much opposition from people saying this is just a myth," she said. "It's not a myth. Do the math. It affects families. You need to talk to some women who work two jobs during the week, maybe the weekend somewhere else. They're single mothers who still can't pay their bills simply because they're not getting paid correctly." When Ledbetter found out she wasn't being paid fairly — which she says happened through an anonymous note — she fought back. "My lawsuit took nine years from the time I started until I got my verdict. I just could not let it go, because it was so wrong."
Ledbetter says when she visits college campuses, young people often tell her, "We don't need equal pay, we have equal pay!" While she's glad gains have been made, she insists they investigate further — just in case. "Know what your job gets paid going in," she said. "If you a mentor there that you trust, try to schedule an appointment and discuss it with them." 
After all, getting equal pay from the start can have an enormous impact on women's lives decades down the line: "I want to make sure that everybody understands that when they start to work, that starts their retirement. No matter how far away it is, and how little it is, that's the beginning." Being paid fairly is just the first step to guaranteeing the kind of security that makes it so women don't have to rely on men for pay — now or later. "What if your husband dies? What if you divorce?" she asked.
In her thick Alabama accent, Ledbetter said before I dashed off, "I told my pastor when he does my funeral that I want the last sentence to say, 'She made a difference.'" On Tuesday, the day of the conference, LedBetter — a company named for her — released the Gender Equality Index to reveal which major companies have no women in leadership positions. Oh, and she's been campaigning with Hillary. Sounds like she's set.