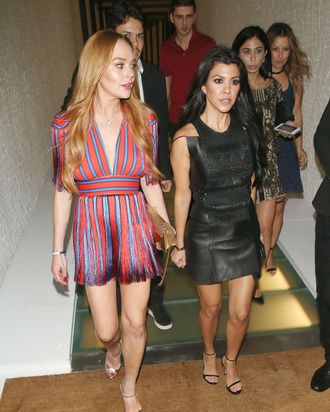 Lindsay Lohan with Kourtney Kardashian.
Photo: WeirPhotos / Splash News
Did you know Lindsay Lohan and Kourtney Kardashian are #twins? They are! The two hit London's clubs together on Wednesday night, walking hand in hand before an incredibly attentive brigade of paparazzi. Lohan wore a fringed candy-cane dress that appears to belong to Kourtney K — earlier that day, she demonstrated how to hit the dance floor in the same dress and gold heels:
Kourt is hanging around London (where Lohan reportedly lives with her Russian business-heir fiancé) after attending Glamour's Women of the Year Awards.