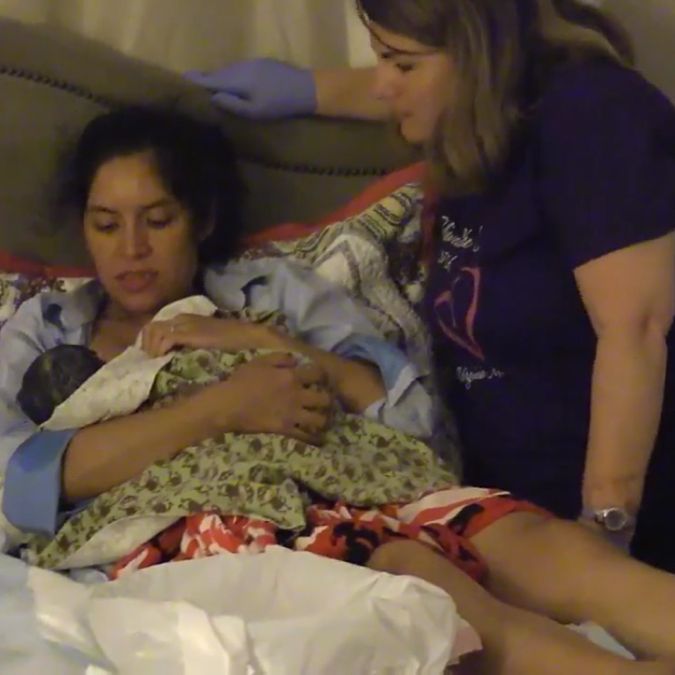 TLC's "A Baby Story" got a 21st century tweak when it broadcast a woman giving birth on Facebook Live.
Beginning at 4:21 a.m. EST, thousands of users watched and commented as Rossio, 39, slogged through her last hour of labor with help from her husband and midwife. The birth was broadcast in a two-part video that's still available on Facebook here and here.
She gave birth at 5:39 a.m. EST, much to the delight of everyone present, including a small, fluffy dog in the background, and her two other sons who came into the bedroom to see what the fuss was about.
Their oldest son had a lot to say about the matter:
"How did the baby come out?"
"Does he love you?"
"Excuse me, little baby."
"Look at that little foot."
"I just really love him, so I want to see him."
"How'd he come out?"
"But you scared us, and we had to come out of the bed and see what it is. … We wanted to say, 'Hey! Stop making noise!'"
The part where Rossio is giving birth is terrifying, but then afterwards it's so freaking heartwarming that it makes my ovaries hurt. She's so chill with her other sons, and her husband is like, cool, I'm just gonna go get you a new shirt because you're covered in goop, and the dog is like, "YAY!" I'm so confused, and so are my ovaries.
Since the birth took place in Rossio and her husband's bedroom, it's fairly dark and the camera stays a respectful distance away from the action. Although the video was marked for "graphic content" and labeled for 18+ audiences, TLC keeps it well within Facebook's draconian guidelines for female nudity. Whew, no nipples here!
Per Variety, "Facebook Live, as with other live-video services and social media in general, has hosted some disturbing events. Those have included a suspected terrorist using it to broadcast a deadly kidnapping near Paris, and a Chicago man shot dead while live-streaming on Facebook." Excuse me, Variety. Which of these things is not like the other?
TLC is planning to livestream another birth in the next few days, so stay tuned and get ready to share your opinions on a stranger's major life event.