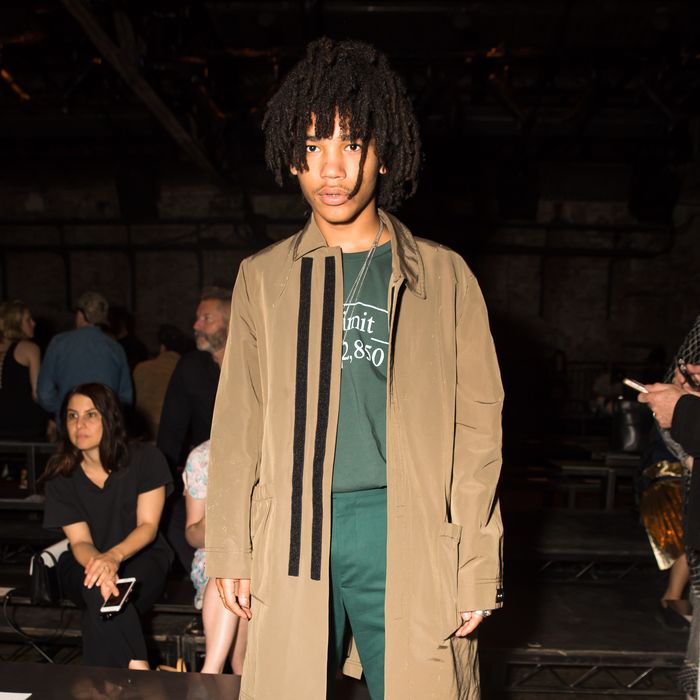 Model/stylist/Instagram star Luka Sabbat.
Photo: Sam Deitch.com/BFA
Luka Sabbat, the model–stylist–Instagram star, had to fight his way the through Kanye West fans to get into the Webster Hall Summer Jam on Sunday night. "It was a madhouse," Sabbat told the Cut at Public School's runway show on Tuesday. "We had to get escorted through a squad of kids, like, the block was insane. Then I had to jump over a trashcan, and security was, like, 'Whoa, whoa, whoa,' then I had my pass, I was good." Once inside, he enjoyed the concert, sans Kanye. "Because of the madness outside, Kanye couldn't even get into his own show. How ironic is that?"
Though only 18 years old, Sabbat says he has so many clothes that he had to rent storage space. "I have so much clothes, it's insane. I can't even store it all in my house." His closet, he says, is "like a museum." "I've got vintage pieces, new pieces, sample pieces. All types of stuff." That includes archive Raf Simons sweaters, pants, jackets, and jumpsuits. He's been seriously collecting clothing for about a year.
Sabbat wore rings on every finger, some of which he made himself, and some of which are samples from a line of high-end jewelry that he'll be launching soon, in collaboration with an Italian jeweler. It'll include rings, pendants, bracelets, and more. "It's all real diamonds, real stones, sterling silver, white gold," he said.
He got the idea after people noticed jewelry that he'd made for himself. "People were always complimenting me on it, so I was, like, man, why not sell them?" He is still in negotiations with retailers, but says the jewelry will be available in Italy, New York, and online.