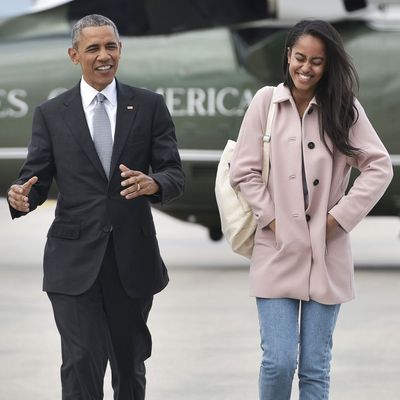 Malia and President Obama.
Photo: MANDEL NGAN/AFP/Getty Images
Cool teen Malia Obama graduates from high school today, and like a true, sweet, embarrassing dad, President Obama will weep. "Malia's school asked if I wanted to speak at commencement and I said no," he said earlier this year. "I'm going to be wearing dark glasses … and I'm going to cry." Celebrating this very exciting day for America's Coolest Teen, we've compiled a brief year-by-year history of her coolest antics.
In her time as a First Daughter, Malia has traveled the world, met countless celebrities and the pope, and interned for Lena Dunham. At the White House, she makes her own bed, does her own laundry, and once (along with Sasha) demanded mac and cheese for Christmas. The Secret Service taught her how to drive. At D.C.'s private Sidwell Friends School, she played soccer, tennis, the flute, and piano. She had braces; now she's taller than her six-foot-one dad.
During her gap year before attending Harvard next fall, Malia will turn 18 (on July 4, America's birthday, of course), vote for her dad's successor, and leave the White House. Her mom says she wants to be a filmmaker. Herewith, the coolest moments from her teen years, which began in 2011.
2011
A few moments of note, during Malia's breakout year as America's First Teenager: She announces she's over children's books while perusing a Martha's Vineyard bookstore with her dad and Sasha, and walks over to the adult section. She makes headlines by choosing Asos clothes, and enters the fashion spotlight. At a Christmas concert, she and the family casually hang out with Justin Bieber.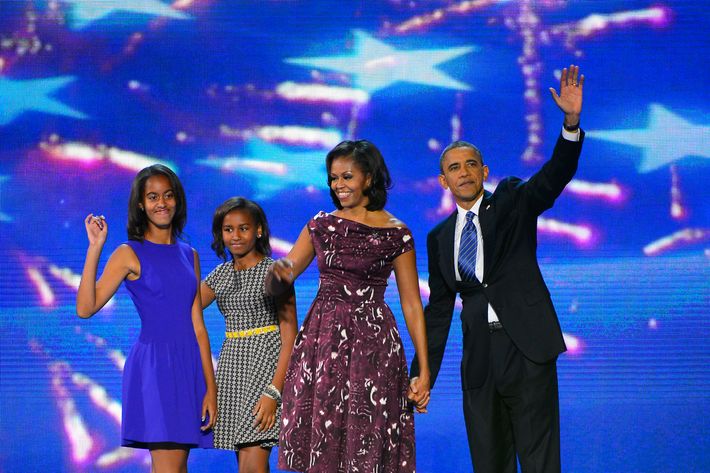 2012
Her cool affinity for music and fashion continue: She attends Beyoncé's first concert after giving birth to Blue Ivy. She wears a jewel-tone $60 H&M dress to the DNC. Her spring-break trip to Mexico with 12 friends and 25 Secret Service agents reportedly costs over $115,000, igniting controversy while everyone is jealous of America's best spring break.
Meanwhile, President Obama is in his early phases of embarrassing dadhood. He tells MTV Malia can't have Facebook for "security reasons," but is allowed to date "because she's got Secret Service protection." Great.
2013
She wears a fuchsia J.Crew coat to Obama's second inauguration. J.Crew retires this coat's amazing color, because the world cannot dress like Malia Obama (among other reasons). This year she goes to the Bahamas for spring break, to Atlantis resort. Her dad tells the world she's going on dates. The Obamas adopt a second Portuguese Water Dog named Sunny, friend to Bo (a hypoallergenic breed for Malia's allergies).
2014
She goes to prom and Obama has lots of emotions about it, telling Live! With Kelly and Michael he hoped he wasn't "too intimidating" to Malia's date (let's face it: He was). She turns 16 and has a casual summer internship as a production assistant on Halle Berry's (since canceled) CBS sci-fi show Extant. She goes to Lollapalooza in Chicago, looks flawless amid muddy fields, and wears yellow. She doesn't wear a flower crown.
2015
She's even cooler about music. The internet freaks out when she wears a Pro Era shirt (the Brooklyn hip-hop collective). She considers becoming a cool New York teen while touring Columbia and NYU, and then actually becomes that cool New York teen, living your summer-in-the-city dream, while interning for Lena Dunham on the Williamsburg set of HBO's Girls. She sees indie movies at the IFC Center and dines at trendy Manhattan spots with friends (La Esquina, Upland, and others).
That fall, she visits Brown and allegedly plays beer pong, relishing the True Campus Experience over Chipotle burrito bowls and dining-hall food and sleeping in the dorms. President Obama says he's not afraid to use the Secret Service to keep dudes away from Malia. Closing out another glorious year, Malia and Sasha ask for money and mac and cheese for Christmas. Yes, same.
2016
Enduring further parental embarrassment, she learns her dad intends to cry at her high-school graduation. "Malia's school asked if I wanted to speak at commencement and I said no," he said at a lunch. "I'm going to be wearing dark glasses … and I'm going to cry." More prayers are requested for both Malia and Sasha amid even more parental embarrassment, when Michelle Obama out-moms herself in a College Humor video with Jay Pharoah.
When the Obamas go to Cuba, Malia takes on the role of presidential translator in an Old Havana restaurant, interpreting an exchange between her dad and a man who seems to be a chef. In May, the White House announces she's going to Harvard (where both her parents attended law school) and taking a gap year. So. Cool.
Happy graduation!