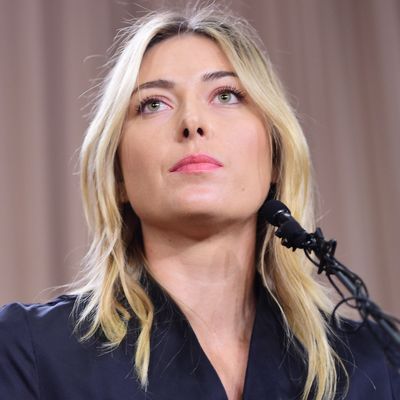 Maria Sharapova.
Photo: ROBYN BECK/AFP/Getty Images
Star tennis player Maria Sharapova was suspended for two years following a failed drug test at the Australian Open.
Sharapova tested positive for meldonium, a drug she says she's been taking since 2006 for her health under the name mildronate, and which became a banned substance on January 1. She previously told reporters that she'd received an email from the World Anti-Doping Agency in December about changes affecting tennis players, but didn't open it.
The International Tennis Federation said even though they believe she didn't intentionally cheat, she still bears responsibility for not staying up-to-date on the list of performance-enhancing drugs. A two-year ban is the maximum penalty for unintentionally ingesting a banned substance; the max for a first-time intentional violation is four years.
Sharapova, a five-time Grand Slam champion, said in a statement:
While the tribunal concluded correctly that I did not intentionally violate the anti-doping rules, I cannot accept an unfairly harsh two-year suspension. The tribunal, whose members were selected by the ITF, agreed that I did not do anything intentionally wrong, yet they seek to keep me from playing tennis for two years. I will immediately appeal the suspension portion of this ruling to CAS, the Court of Arbitration for Sport.
She was the world's highest-paid female athlete for the past 11 years, but as of Monday, that title belongs to Serena Williams. Sharapova's earning power has undeniably been hurt by this controversy. After she announced the failed test, sponsor Nike said it was suspending its relationship with her "while the investigation continues." Tag Heuer and Porsche did the same, while Evian said that it would "follow closely the development of the investigation." Some argue Sharapova's looks helped her break through in the endorsement sphere, but they probably won't help her now.