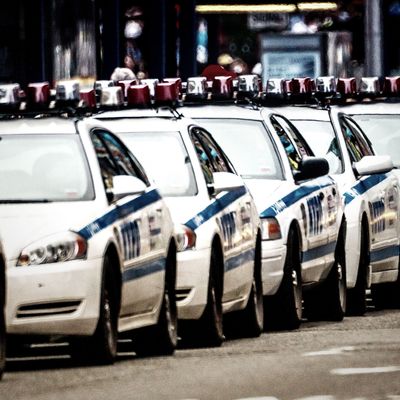 New York's Sex Diaries series asks anonymous city dwellers to record a week in their sex lives — with comic, tragic, often sexy, and always revealing results. This week, a 35-year-old EMS worker trying to find sexual satisfaction outside her sexless marriage: married, straight, Queens.
DAY ONE
6:00 a.m. Wake up for work. Hubby and I both work in high-stress emergency medicine. We both work long, crazy hours and sometimes go a few days without actually spending time together due to our schedules, but he's off today and home with the kids. I'm hoping a day off will get him relaxed enough to want sex tonight — it's been months since we had sex. He blames stress and turning 40. "I'm not in my sexual prime anymore," is his mantra. I blame his mid-life crisis and his wandering eye.
6:00 p.m. Home from a day of work: chaos, blood, and mayhem. I just want to shower and do the family thing. After the robotic routine of dinner, kids' baths, playtime, and bed, I collapse on the couch next to him. I sit close to him and tell him how good he smells. He knows what's up. I place my hand on his inner thigh, and he promptly pats it a few times, like a grandmother would do to her grandchild, and shakes his head "No." "C'mon," I say. "I want you." That had to count for something? No dice. He says without emotion, "I'll give you the finger." I tell him I'm not accepting a pity-fingering. He goes to bed, and I have another night of making myself come alone on the couch watching bad porn.
DAY TWO
6:00 a.m. I wake up to a text from a cop, Chris, who I met at work. Backstory: In emergency medicine, you learn that cops are in the ER as much as they are in the precinct houses, and we develop familiarity and friendships with most of them. He asked 19,001 times for my number, and I relented eventually. He really wants to fuck me. He says this daily to me. But most cops are cheating man-whores; I'm not naive. The old me would never consider this, but hubs has no desire — it's been six months of no sex. He says he's going through "a phase." Yeah, well, it wasn't a phase when he cheated on me a few years back, was it? So all this makes me nervous he's cheating again. Why doesn't he want me? Make a vow tonight to try harder with hubby. I delete the cop's text. ("Hey sexy, when can I finally see you?")
DAY THREE
6:00 a.m. Wake up and take kids to school. Come home, hop back into bed for some long-needed sleep.
2:00 p.m. I get a text from hubs: "What's for dinner?" I tell him my wet pussy is what's for dinner. He says, "C'mon, stop, really what's for dinner?" I tell him pasta. He says, "Oh good I've been craving that." Awesome. My husband is more aroused by pasta than by me. Not wanting to ruin the good mood I was trying to be in, and because I'm horny as fuck, I impulsively text the cop back. "What would u do if u saw me?" He immediately replies back how hard he'd fuck me and all sorts of nasty texting ensues and we have text sex. I get myself off and go back to sleep for an hour. Wake up feeling guilty. Ughhhhhhhh. Why did I do that?
DAY FOUR
9:00 a.m. Check through hub's phone records, emails, Messenger, and all that. Feel confident he's not cheating, so … what the fuck?! I know he's jerking off. I can see his browser history of muscular big-titted brunettes and redheaded whores who suck dick, etc., so I know he still can get hard. I text hubs that when he gets home at midnight, I'll be naked at the door. He never answers back. I cry for the next two hours.
DAY FIVE
Noon Cop is texting endlessly, wants to meet up, is getting ballsy about it.
5:00 p.m. Crazily enough, I run into him while food shopping with my kids. We all live in the same neighborhood. No, no, no. Delete. Delete. Delete. Not happening.
7:00 p.m. Have huge fight with hubs over lack of sex. He promises he will talk to his doctor about it. Awesome day so far!! I hop in the bath with my vibrator and watch porn on my phone until I come. Well, at least my batteries never let me down.
DAY SIX
10:30 a.m. I have some downtime at work, and I'm sitting in my car. I check out the Craigslist mw4w section. Why am I on here? I can't stop thinking about sex. I'm wet reading these posts. I know half these people are probably fake or murderers, yet one couple sparks my interest. Gulp. I reply. Some pictures exchange. They'd like to meet for drinks soon. What am I doing? I'm half-wet, half-excited, and half-nauseous with myself.
10:30 p.m. I go to bed playing with myself until I come thinking about the couple fucking me. Hubby is lying next to me in bed while I'm doing this. He literally asks me to hurry up and finish so he can go to sleep.
DAY SEVEN
8:00 a.m. The couple is emailing me. The cop is texting me. And here I am just wanting my husband. I roll over in bed and start to give him a blow job. He freaks the fuck out like some stranger is on him. I'm really taken aback by this. This isn't good at all. I tell him he needs to make a decision because we can't continue like this. I really want to scream to him, "A lot of people want to fuck me!!" And I want to fuck them! And I'm a woman in my sexual prime. I'd hump a lamppost at this point.
1:00 p.m. Stop at the pharmacy to pick up my prescriptions, and there's one for my husband. It's a prescription for Viagra. Interesting. It's $320. I pay it. Wondering if this is the going rate for a male hooker, as I feel I'm essentially paying for my husband to fuck me. He tells me he asked for it at the last doctor visit — he wanted to have some at home and maybe give it a try. I'm excited, but he tells me to not get my hopes up, as he isn't ready to try it just this second. I block and delete Cop and CL Couple from my phone. I can't do this. I'm too guilt-ridden and still too hopeful that my husband and I can get our shit together. Or, more specifically, our body parts together. But for now it's just going to have to be me and my AA batteries, until death do us part.
Want to submit a sex diary? Email sexdiaries@nymag.com and tell us a little about yourself.